A Smart & Sustainable Shipping Journey
A Smart & Sustainable Shipping Journey
Want to ship more, with less impact?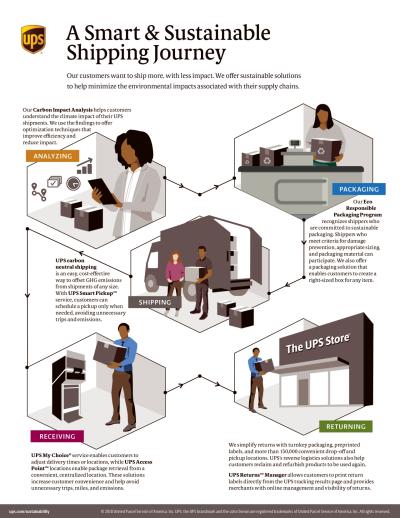 tweet me:
.@UPS helps customers ship more with less impact this holiday season by providing #sustainable ways to get your #ecommerce and other #holiday shipping done. Learn more with this convenient guide to cut #carbon and stay on the nice list http://bit.ly/2Pc08dw
Wednesday, December 5, 2018 - 10:55am
Our customers want to ship more, with less impact. We offer sustainable solutions to help minimize the environmental impacts associated with their supply chains.
This infographic is from the 2017 UPS Sustainability Progress Report: On the Leading Edge. Visit ups.com/sustainabilty to see the full Report, GRI Content Index, and other stories of innovation.
More From UPS
Thursday, May 28, 2020 - 7:50am
Wednesday, May 27, 2020 - 7:50am
Tuesday, May 26, 2020 - 3:00pm