Sehat Kahani Nominated for 2019 Rolex Awards
Sehat Kahani Nominated for 2019 Rolex Awards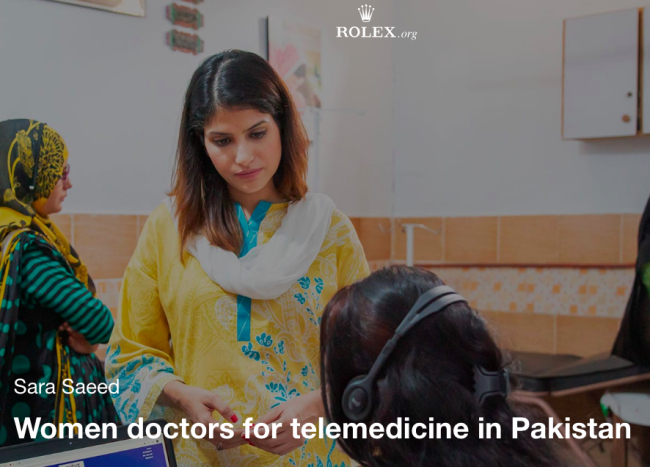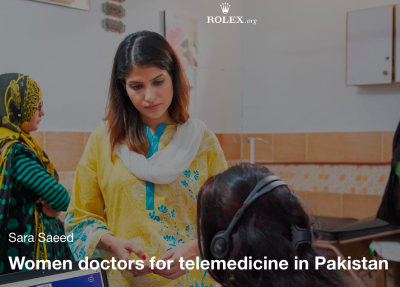 tweet me:
.@SehatKahani CEO Sara Saeed nominated for 2019 @Rolex Awards. This innovative telemedicine service gets female doctors in Pakistan into the workforce serving patients in rural and impoverished communities. http://bit.ly/2MdReQw #diversity #healthcare
Friday, May 31, 2019 - 12:15pm
Dr. Sara Saeed, Co-Founder and CEO of Business Call to Action member Sehat Kahani, a Pakistan-based telemedicine service that connects home-based female doctors with people in rural and impoverished communities to provide essential, low-cost healthcare, has been nominated for the 2019 Rolex Awards. 
Although it is one of the world's fastest-growing economies, Pakistan still struggles with basic healthcare. Of the 40 million Pakistanis living below the poverty line, according to ADB, 30 million live in rural areas and nearly 30 percent lack access to primary care. As a result, more than 80 percent of healthcare expenditures are made out of pocket. Millions of impoverished Pakistani women rely on untrained birth attendants and faith healers, contributing to a national maternal mortality index of 149 – the 3rd highest worldwide.
 
According to WHO 2015, Pakistan Produces 150,000 doctors ever year. Even though 63 percent of medical students are female, only 23 percent of registered doctors are women according to 2014-2015 Pakistan Medical and Dental Council. While nearly half of Pakistan's trained doctors are women, 50 percent of them never enter employment after receiving their medical degrees. A UN study in one province showed that only 246 women doctors were available to meet the healthcare needs of 22.2 million people.
 
While its aim is to reach low-income communities, Sehat Kahani is putting women doctors to work: just as social norms pose barriers to impoverished women seeing doctors, cultural barriers limit women doctors' ability to practice. By leveraging mobile health and tele-health technologies, the company is enabling women doctors to initiate home-based practices, bringing them back into the workforce in order to provide quality care in remote communities.
"A lot of female doctors here do not work after getting their degree. Instead they become 'doctor brides' and stay home with their family. We're putting these female doctors back into the workforce within the cultural norms that exist in Pakistan and connecting them to patients in poor and rural communities, using digital technology," said Dr Saeed.
Sehat Kahani's network of 23 e-health clinics across Pakistan serves 86,000 patients. It employs 1,500 female doctors and more than 90 nurses and field health workers. Recently it has included Pakistani female doctors living overseas, making its services available round the clock. Saeed plans to expand her network to 100 e-clinics, delivering affordable healthcare to up to 10 million people by 2023. The result is a model that not only saves lives and delivers affordable care – but also empowers skilled women to reach their full potential.
The Rolex Awards identify and invest in exceptional people around the world who are carrying out pioneering projects. The Rolex Awards for Enterprise support innovative work in science and health, the environment, applied technology, exploration and cultural heritage. In addition to demonstrating a spirit of enterprise and leadership, candidates must put forward projects or work plans that have a clear purpose, are original and have the potential for significant impact. Laureates also receive a cash grant to advance their projects. To find out more about the Rolex Awards click here. 
Photo: Rolex.org
More From Business Call to Action (BCtA)
Wednesday, September 23, 2020 - 3:05pm
Friday, September 11, 2020 - 12:30pm
Friday, August 21, 2020 - 11:25am