Sands Cares Joyce Siew Leads Corporate Social Responsibility Program in Singapore
Sands Cares Joyce Siew Leads Corporate Social Responsibility Program in Singapore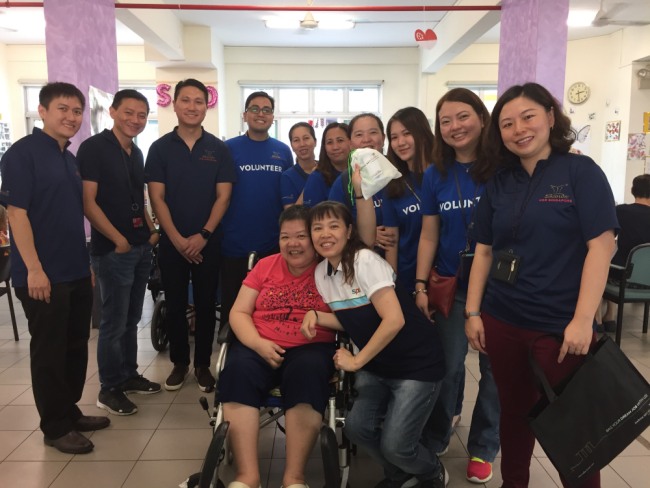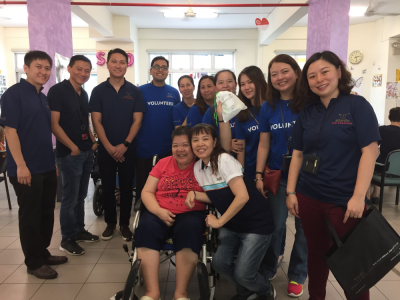 tweet me:
#SandsCares #CSR Program Lead Joyce Siew brings employees together for #volunteering opportunities throughout Singapore http://bit.ly/2Sc0fYR via @LasVegasSands
Thursday, January 10, 2019 - 10:25am
Sands Cares, the corporate giving and community engagement program of Las Vegas Sands, is dedicated to being a good corporate citizen, committed to its people, communities in which it operates and the planet.   In each region, Sands Cares has Corporate Social Responsibility (CSR) leads that manage the program and execute initiatives unique to each region.  Born and raised in Singapore, Joyce Siew graduated with a degree in English and Sociology and began her career in various communications related roles in both the public and private sector, before joining Marina Bay Sands' communications and CSR team in 2012.  Siew works closely with local organizations that align to the properties CSR charters, which focus on youth and education, to understand the greatest areas of need and assess how Marina Bay Sands can best use their resources to help. 
"With all of our initiatives, we emphasize Team Member engagement in all aspects," she said.  "Together with the team and the CSR working committee, I help organize key volunteering activations for the year and also look out for smaller volunteering opportunities that are aligned with our CSR charter.  Our department leads the stewardship of charitable in-kind and cash contributions, so I help evaluate charitable sponsorships requests with guidance from our senior leadership team.  Singapore is a small city-state, peaceful, prosperous and sheltered from natural disasters due to its geographical location. We are very blessed in these aspects, but as a developed nation, we are not immune to the costs of development.  Locally, many areas still lack socio-economical opportunities and this is where Marina Bay Sands, with our resources and talent, can help fill the gaps."
In 2017, the team organized over 30 volunteer events on different scales, coordinating over 4,500 volunteers and at each event where the property averages more than 200 volunteers.  One signature event, Sands for Singapore Charity Festival, has been the biggest initiative for Marina Bay Sands since it started in 2013.  The event utilizes every single facet of the property to give back to the community, where attractions play host to vulnerable communities, meeting rooms transform into venues that enable Singaporean charities to raise funds, and award-winning restaurants open their kitchens to train adults who have lost the means to support themselves due to personal reasons.
"When it comes to creating invigorating volunteering events, we approach it at two levels," she said.  "We organize large-scale activities that mobilize Team Members to go out into the community to lend a hand on a quarterly basis.  Some of the work we do ranges from refreshing homes of low-income families or seniors, to giving our time at soup kitchens or food redistribution centers.  Then we also look at tapping into the expertise and experience our Team Members can offer for skills-based volunteerism."
One example of skills-bases volunteerism is the Sands for Singapore career workshop, where Team Members engage directly with Singaporean students to share insights about the hospitality industry, what it takes to do the job and how to succeed at it.  The property has also worked with local organizations focused on developing character and leadership for vulnerable youth, placing youth in a two-week apprenticeship with departments such as attractions, retail and the ArtScience Museum.  Another special event unique to Marina Bay Sands is "In Conversation With," a series where Singaporean youth have the opportunity to meet, be inspired and learn from talent, which in the past has included Tom Holland, Aamir Khan, Corinne Bailey Rae, Sir Julian Fellowes and Gordon Ramsey.  But the largest event that Siew and her team organize is shared amongst Las Vegas Sands properties around the world. 
"The single, largest event with the largest number of Marina Bay Sands volunteers gathered in one space is the Sands Cares Global Hygiene kit build," she said.  "This year, we mobilized over 1,000 volunteers who helped to sort boxes and amenities, pack the kits, as well as clear and sort recyclables.  This event is one that we do every year, but we also partner with other organizations annually and have developed a partnership with many of them.  We focus on special needs education, social services and the arts." 
Some of the organizations partnering with Marina Bay Sands are Association for Persons with Special Needs, Cerebral Palsy Alliance Singapore and AWWA, a social service organization that works with vulnerable families.  Many of the volunteer efforts for the property revolve around these organizations, with the effort of strengthening the bond between Team Members and the people served by these organizations.  Marina Bay Sands has also supported the Singapore Community Chest since the property opened in 2010, with the Comchest Heartstrings Walk and Race to the Sky becoming the finale to the Sands for Singapore Charity Festival.  Partnering with various organizations in the community has allowed Siew to gain insight into Singapore's social landscape. 
"Marina Bay Sands is such an iconic property," she said.  "Besides in-kind or cash contributions, we have the ability to harness the property's offerings or tap on opportunities with celebrities and pull together activations that benefit the community. This is also one job that allows me to interact with Team Members from multiple departments, many whom I may never get to work with if it wasn't for our volunteer initiatives.  What amazes me is that no one says 'no' to giving back.  Chefs, event managers, security, finance, HR, casino Team Members and more are all willing to help.  Giving back to the community means a lot to me because my parents instilled those values in me. In this job, not only do I have the opportunity to give back, I can enable many others do so."
More From Las Vegas Sands
Tuesday, January 21, 2020 - 4:10pm
Tuesday, January 7, 2020 - 11:40am
Monday, January 6, 2020 - 4:40pm