Safeway Partners With Truckee Donner Public Utility District to Reduce Energy Consumption
Safeway Partners With Truckee Donner Public Utility District to Reduce Energy Consumption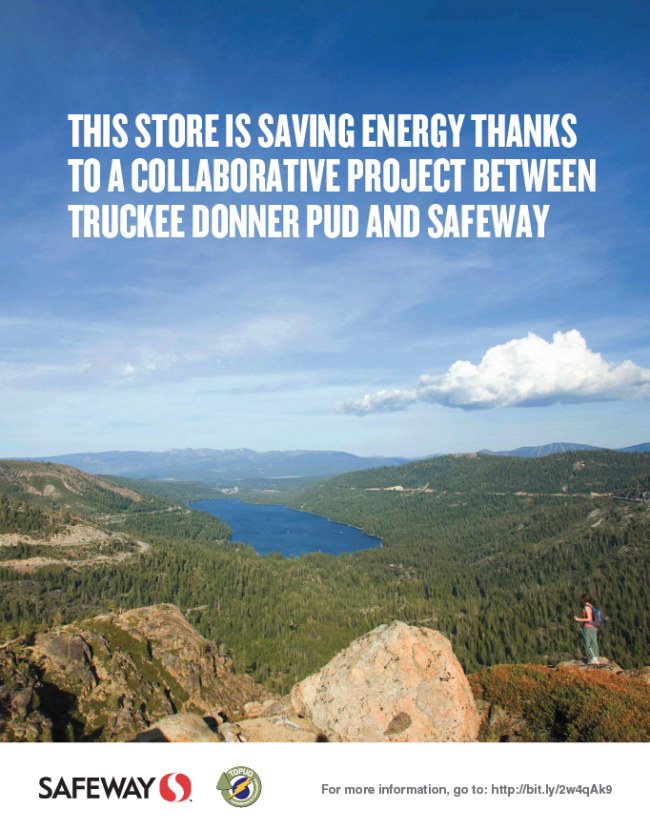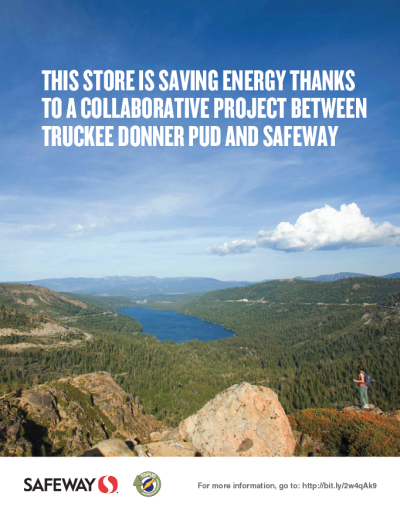 tweet me:
.@Safeway in Truckee, CA partners with @tdpud to save enough energy to power nearly 30 homes for a year. http://bit.ly/2w4qAk9
Monday, January 22, 2018 - 7:55am
Safeway is committed to minimizing its impact on the environment, preserving vital resources, and contributing positively to its valued community. These ideals were revealed clearly in a recent project at the Safeway store in Truckee, California. Eager to conserve electricity, Safeway accepted a partnership proposal from Ecology Action, a non-profit environment consultancy organization committed to helping people and businesses act now to create a thriving economy and healthier planet. They helped facilitate an incentive model focused on energy conservation between Safeway and Truckee Donner Public Utility District (PUD), which aims to provide low-cost, dependable and sustainable energy to Truckee's residents and businesses. "Truckee Donner PUD has cost effective energy conservation programs which help our customers save energy and money," said Lauren Schaake-Hudson, Program Manager of Customer Service and Conservation at Truckee Donner PUD. "This project at Safeway will deliver savings to our community for many years." 
Truckee Donner PUD generously provided a grant necessary for the energy conservation project to be approved and completed. The project involved replacing less-efficient evaporator fans in refrigerated coolers, freezers, with electric commutated motors (ECM) fans. Refrigeration is among the most energy-intensive equipment in a grocery store, and ECM fans are a key component to reducing in-store energy usage from refrigeration. 
This project took three days and 249 new ECMs to complete, and the benefits for the Truckee Safeway store and the environment are tremendous. The energy saved after the Truckee Donner PUD upgrades is estimated to be more than 276,000 kilowatts per year. That's enough electricity to power nearly 30 houses for a whole year. This partnership between Safeway and Truckee Donner PUD was extremely successful, and sets an example as it highlights the importance of creating partnerships to benefit the community and environment as a whole. According to Victor Munoz, Senior Manager of Energy Operations for Corporate Safeway and a key leader in this project, "Safeway and Truckee-Donner PUD will continue to work together on initiatives to enhance Safeway's commitment to energy reduction, improve energy efficiency and preserve the environment for our customers and communities. We'd like to thank Truckee-Donner Public Utility District for providing us with the financial incentive necessary to complete the project, as well as Ecology Action for playing a critical role in assisting Safeway to enhance its energy efficiency." 
More From Albertsons Companies
Friday, May 22, 2020 - 5:30am
Wednesday, May 13, 2020 - 10:00am
Friday, May 8, 2020 - 12:15pm