SROI Accreditation Training for Practitioners
SROI Accreditation Training for Practitioners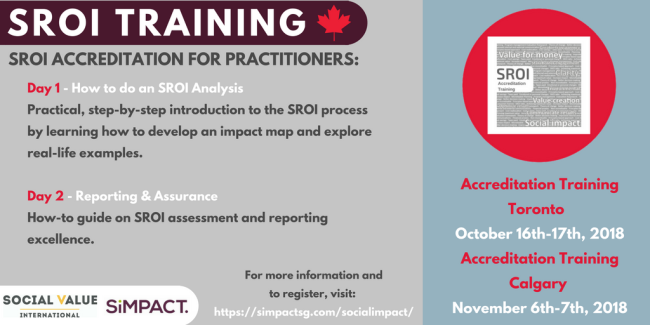 tweet me:
This fall register for #SROI #Accreditation training in #yyc and #yyz! Participants will learn how to do a #SROI analysis, and explore reporting and assurance best practices. @SocialValueCDA http://bit.ly/2OyRBBi
Tuesday, August 14, 2018 - 6:20pm
This fall register for SROI Accreditation training in Toronto (October 16-17, 2018) and Calgary (November 6-7, 2018). 
Day 1 is a practical, step-by-step introduction to the SROI process by learning how to develop an impact map and explore real-life examples.
Day 2 is a how-to guide on SROI assessment and reporting excellence.
To learn more and to register, please contact Mary at mary@simpactsg.com.
To learn more about available training courses and coaching, please visit: https://lnkd.in/gSkajKM
To learn more about Social Return on Investment, please visit: https://lnkd.in/gKYQjAz
More From SiMPACT Strategy Group
Wednesday, August 5, 2020 - 11:10am
Tuesday, July 28, 2020 - 12:00pm
Tuesday, July 21, 2020 - 2:50pm