Prioritizing Human Connection In Business: My Never Stand Still Conversation with Kaiser Permanente CEO Bernard J. Tyson
Prioritizing Human Connection In Business: My Never Stand Still Conversation with Kaiser Permanente CEO Bernard J. Tyson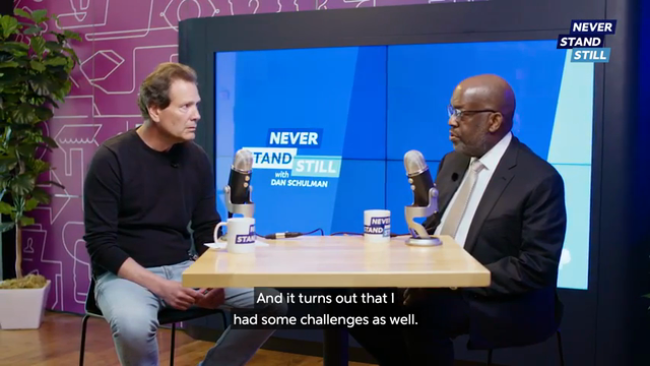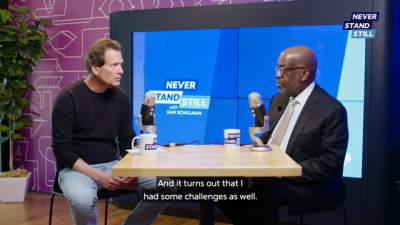 tweet me:
On Never Stand Still, @PayPal President and CEO, Dan Schulman, interviews Kaiser Permanente Chairman and CEO, @BernardJTyson, on how the company is focused on eliminating disparities in healthcare across America. http://bit.ly/2Mticmv
Wednesday, August 21, 2019 - 4:00pm
Kaiser Permanente Chairman and CEO Bernard J. Tyson has a long history with the company—34 years to be exact. He has had a spectacular career at Kaiser, beginning as an intern and serving in roles from hospital administrator and division president to chief operating officer. In fact, Bernard was such a standout employee that he was hired full time before he'd completed his internship. He jokes that he still owes the company three months of work at an intern's salary.
Bernard developed an interest in healthcare at an early age. He spent much of his childhood in hospitals with his mom, who lives with diabetes, and pursued a career in healthcare thanks to his fond memories of her doctor. While Bernard didn't become a doctor himself, he did learn how important it is to have someone who advocates for your family's health.
Bernard's journey and his perspective on life make him an inspiration and role model. He understands—on the most intimate level—his industry, the communities it serves, and how to best serve them. Those are all goals I work towards at PayPal as well. We talked about these themes in our recent Never Stand Still conversation, which you can watch on YouTube, Apple Podcasts, and Spotify.
Here are some of my takeaways from our conversation:
As businesses grow and technology becomes more sophisticated, there's no substitute for human connection.
After going into heart failure back in 2013, Bernard underwent open heart surgery and was induced into a coma for three days. During his recovery period in the hospital, Bernard pretended to be on top of the world, despite struggling to keep it together. One nurse saw beyond his façade and helped comfort him. "All she did was touch my hand. That was it. And lifted it and walked away. That touch meant the world to me," Bernard said. He said he can still feel that touch, calling it "the most impactful, compassionate touch that a person could have at a moment like that." Kaiser Permanente has no shortage of high-tech medical equipment to help them provide the best care, but world-class technology can never replace the power of human connection. With all the new technologies being developed that are changing how we connect with each other, Bernard's experience is the perfect reminder to keep people at the center of everything we do—in business and in life.
Leaders set the temperature for their organizations' culture.
Bernard and I are both passionate about inclusion and ensuring that our employees can bring their full selves to work each day. I couldn't agree with him more when he said, "There's a direct responsibility that the top leadership…in particular the CEO, has in creating and fostering that kind of environment." It's so important that leaders "set the temperature," as Bernard says, and never turn over that responsibility. He's working to create an environment at Kaiser Permanente where employees don't have to assimilate to the majority, know they have equal rights to a seat at the table, and are heard when speaking truth to power. At PayPal, we constantly strive to create a company that's not just diverse, but inclusive—and where our employees feel united by our common mission and values. I'm incredibly proud of our community of more than 20,000 PayPal employees around the world. Our diversity of background and thought helps us do better business, and it makes coming to work that much more meaningful for our employees.
Find the beautiful moments, even when you experience setbacks.
Sometimes in life, we get knocked down. But on Never Stand Still, I like to focus on how guests are able to get back up and keep moving. When I asked Bernard about a moment when he was hit hard in life, he knew his response immediately: being diagnosed with heart disease. The experience was a stark reminder to actively find beauty in each day. Every day, Bernard takes a mental picture of "beautiful moments." They can be as simple as the green grass in his backyard, but those mental images are what help Bernard get through difficult times and have been a form of therapy for him. What a powerful lesson to us all to find something beautiful in each day, no matter how small.
More From PayPal
Friday, May 7, 2021 - 8:00am
Tuesday, April 27, 2021 - 1:05pm
Tuesday, April 13, 2021 - 3:00pm