Pressing for Progress: Accenture, Ball, Genentech and Intuit Illuminate the Way
Pressing for Progress: Accenture, Ball, Genentech and Intuit Illuminate the Way
How companies are advancing gender equality through purpose-driven cultures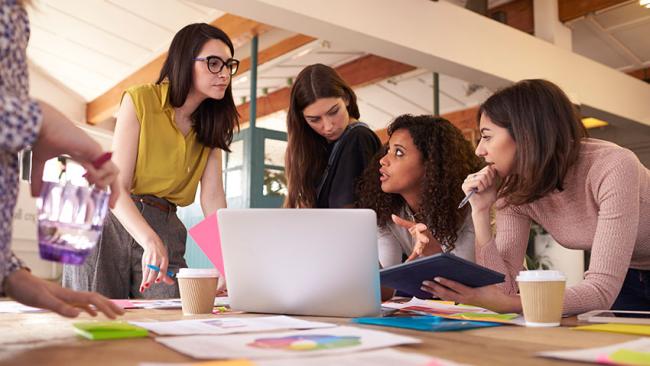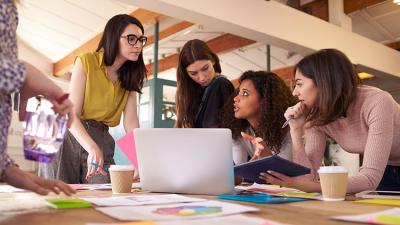 tweet me:
Admirable efforts by @accenture @BallCorpHQ @genentech and @Intuit to advance gender equality: http://bit.ly/2oScEnZ #IWD2018 #PressforProgress #ForGoodnessSake
Thursday, March 8, 2018 - 7:15am
Gender equality is front and center in the public conversation as never before, and people are looking for ways to get involved and make a difference with more urgency and action. When we look at data from the hundreds of Fortune 1000 companies that use Benevity's platform, volunteering time for women's causes is growing at twice the rate of overall active volunteerism. On International Women's Day itself, we saw donation activity double from 2016 to 2017, and donations to causes dedicated to women's issues grew by nearly 12 times. These issues have tremendous personal resonance and meaning for so many of us because gender inequality is a deeply-felt, lived experience, and the opportunity to engage in open dialogue that holds individuals, companies and governments accountable is powerful.
 
That's why it's so important this International Women's Day for companies to reflect on how they're participating in the gender conversation—and not just on March 8, but all year round. We've talked a lot recently about how people are increasingly looking to companies to take a leadership role on social justice issues. For International Women's Day this year we wanted to share some examples from our client community of companies who are leading the way. For them, planting the flag in support of diversity and gender equality is crucial to their success.
FIND OUT HOW ACCENTURE, BALL, GENETECH AND INTUIT ARE ADVANCING GENDER EQUALITY.
More From Benevity
Tuesday, March 23, 2021 - 8:25am
Wednesday, March 10, 2021 - 8:15am
Tuesday, February 23, 2021 - 7:55am