The President and Chief Executive Officer of Ford Motor Company, Jim Farley, Accepts the Gold Medal Award
The President and Chief Executive Officer of Ford Motor Company, Jim Farley, Accepts the Gold Medal Award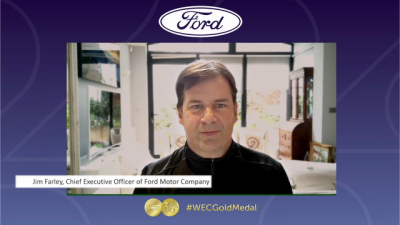 tweet me:
The President and Chief Executive Officer of Ford Motor Company, Jim Farley, accepts the Gold Medal Award presented for their outstanding work in Sustainability. https://bit.ly/3oW9hZQ @jimfarley98 #WECGoldMedal #Sustainability
Wednesday, December 16, 2020 - 3:00pm
The World Environment Center (WEC) honored the Ford Motor Company by awarding it the 36th annual Gold Medal for International Corporate Achievement in Sustainable Development. Due to the global pandemic, WEC held a virtual presentation on December 15, 2020. Bob Holycross, Ford's Chief Sustainability, Environment and Safety Officer, joined the event  to accept the award.
More From World Environment Center
Thursday, May 6, 2021 - 2:30pm
Thursday, May 6, 2021 - 2:30pm
Thursday, May 6, 2021 - 9:30am
Videos from World Environment Center