Powering a Greener Future
Powering a Greener Future
A panel of experts met to discuss how next-generation networks can drive sustainability.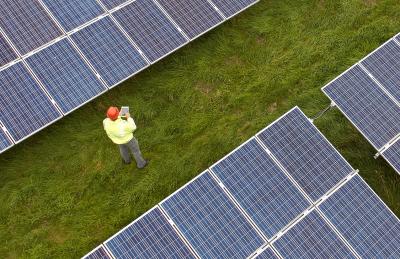 tweet me:
What does mobile technology have to do with environmental sustainability? A lot, actually. http://www.verizon.com/about/news/powering-greener-future @VerizonPolicy
Tuesday, May 1, 2018 - 10:30am
What does mobile technology have to do with environmental sustainability? A lot, actually.
The connection between mobile networks and the environment is not immediately intuitive. When we think of 4G technology and the evolution to 5G, many of us think of how we'll be able to download a movie in seconds rather than minutes, and how we'll get speedier responses to our Internet searches. 
But mobile technology can do so much more. Next-generation 4G and 5G mobile networks are enabling innovations that protect the environment and improve quality of life. That was the key takeaway from "Celebrating Earth Day: The Power of Next Generation Networks to Advance Environmental Sustainability," an event Verizon hosted earlier this week. Steve Rochlin of IO Sustainability moderated a panel of experts and innovators who discussed how mobile networks are supporting innovations that save energy and reduce carbon emissions. 
Mobile Innovations Enable a Greener Planet
Panelists agreed that mobile technology creates countless opportunities to improve sustainability. Jim Gowen, Verizon's Chief Sustainability Officer and Incoming Chair of the Board of Directors for the Global e-Sustainability Initiative (GeSI), and Darrell West, Founding Director of the Center for Technological Innovation at the Brookings Institution, provided a variety of examples. Smart buildings deliver data on energy use, allowing managers to maximize building performance and efficiency. Intelligent asphalt monitors traffic flow, permitting cities to adjust traffic lights to reduce commute times and cut carbon emissions. Sensors monitor soil moisture and drones canvass farmlands, helping farmers optimize irrigation and conserve resources. Sensors can also detect leaks in city water pipes and prevent water loss. Mobile apps help drivers find available parking spaces, reducing traffic congestion and CO2 emissions. 
5G Networks Drive Sustainability
5G networks have the potential to further advance environmental sustainability. By dramatically improving the speed at which networks can transmit high volumes of data with minimal delay, 5G technology will power the Internet of Things (IoT) and drive breakthrough advances that can make communities and industries greener.
Nancy Gillis, CEO of the Green Electronics Council, said 5G can bring IoT to life while increasing sustainability and efficiency. She talked about the power of sensors to turn data into information but stressed the importance of ensuring that the actual devices used to protect the environment are, themselves, sustainable.
Emilie Hung of Verdigris Technologies, described how her smart building management company, a start-up that was incubated in the Verizon Innovation Labs, relies on today's robust 4G network. Verdigris collects and analyzes data from smart sensors in buildings to help customers increase energy efficiency. Ms. Hung said the potential of 5G is "beyond my imagination," and is excited about how it will help Verdigris drive even greater efficiency.
Dr. Vaughan Turekian from the National Academies of Sciences, Engineering and Medicine also emphasized the importance of networks to sustainability. He told us that next-generation networks can help increase the participation of women in the workforce, which is one of the United Nations Sustainable Development Goals, by improving remote work opportunities.   
Policymakers and industry are key to a cleaner future
But industry will not be able to achieve these sustainability goals without support from policymakers and diverse stakeholders. As we heard, 5G is vital to a cleaner future and is capable of powering sustainable solutions, some we can't yet imagine. Government officials at every level play an important role in promoting timely 5G deployments by streamlining regulations and removing barriers to building 5G networks. "Going greener starts with infrastructure," such as fiber connections and 5G small cells, according to Mr. Gowen. Mr. West agreed that infrastructure is crucial as are policymakers: "if we get the policy right, if we get the regulatory regime correct, the future is open for amazing applications."
We enjoyed hosting this discussion and are excited about building tomorrow's high quality networks, which will be the backbone of a sustainable future. To learn more about Verizon's efforts, check out our recently released CSR report.
More From Verizon
Friday, May 22, 2020 - 11:30am
Thursday, May 7, 2020 - 3:00pm
Thursday, April 30, 2020 - 10:00am