More and More Employees Want to Support Causes Across Borders—Here's Why (and How!) Companies Are Getting Involved
More and More Employees Want to Support Causes Across Borders—Here's Why (and How!) Companies Are Getting Involved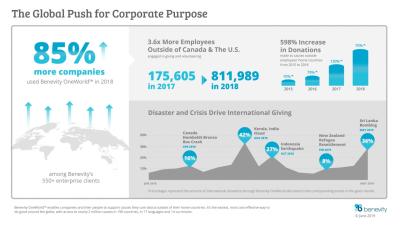 tweet me:
New data shows a 598% increase in donations to causes across borders through the @benevity OneWorld™ international solution. Here's why hundreds of companies are now empowering their employees to support causes near and far. http://bit.ly/2YHrlKl
Wednesday, July 10, 2019 - 9:00am
The demand for employee giving and volunteering programs that stretch across borders is growing. Last year, we saw a whopping 85% increase in the adoption of the Benevity OneWorld™ international solution. More than half a million new users logged into the cloud-based program that enables employees across global offices to support causes inside and outside of their home countries.
Employees want to be able to donate immediately when disasters like earthquakes and hurricanes strike halfway across the globe. It's clear they want to give, and not just to causes next door or down the street.
Find out how empowering employees to give internationally can have major social and business impact!
More From Benevity
Thursday, March 26, 2020 - 8:15am
Wednesday, March 18, 2020 - 8:35am
Wednesday, March 4, 2020 - 7:00pm