With the Mediterranean Diet, Israel Wants To Set the Standard for Global Health
With the Mediterranean Diet, Israel Wants To Set the Standard for Global Health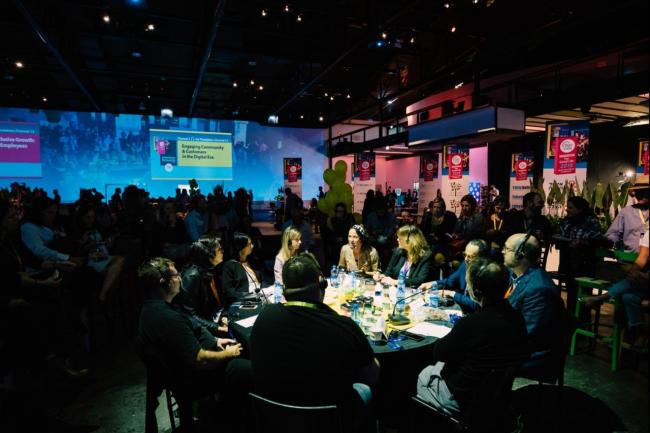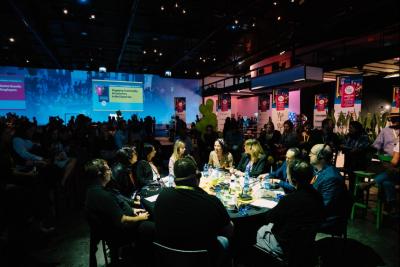 tweet me:
According to @CSRIsrael and recent health studies, adopting a Mediterranean diet could lead to a healthier world overall. http://bit.ly/2FSZY8S by @amybrownCSR via @TriplePundit
Friday, July 5, 2019 - 2:25pm
Image: Representatives of food companies, Israel's Ministry of Health, academia, and physicians discuss food and health issues at the annual international conference held by Maala.
This article series is sponsored by Maala and produced by the TriplePundit editorial team.
Israel, with its long tradition of embracing the Mediterranean diet, has its sights set on being a model of health and nutrition for the rest of the world. The Ministry of Health in Israel is actively promoting the Mediterranean diet, calling on food manufacturers to follow suit and help consumers achieve a healthier lifestyle.
The country is already off to a good start. Dinner tables featuring hummus, tomato-cucumber salad and extra-virgin olive oil—all staples of the Mediterranean diet—no doubt helped propel Israel to the top spot on a recent ranking of countries with the lowest rate of diet-related deaths worldwide. 
While Israelis don't have perfect diets—processed, fried and sugary foods are consumed widely there, too—the Ministry of Health is determined to improve the health of its citizens even further by making the Mediterranean diet part of its new nutritional guidelines.
While Israelis don't have perfect diets—processed, fried and sugary foods are consumed widely there, too—the Ministry of Health is determined to improve the health of its citizens even further by making the Mediterranean diet part of its new nutritional guidelines. 
Still, convincing people to change their habits won't be easy—and the food industry must step up to play a role. At the annual international conference held by Maala—Israel's corporate social responsibility (CSR) standards-setting organization—representatives of food companies, the Ministry of Health, academia and physicians sat together to discuss solutions. These key stakeholders are still actively involved in charting the way forward to better health in Israel—and setting an example for the rest of the world.
Mediterranean diet—and sustainability—drive updated nutrition guidelines
"For the first time, we are looking at the whole picture of a healthy diet—the whole food, the whole meal, how it got on the plate, and how it is being consumed," said Carmit Safra, a nutritionist with the Israeli Ministry of Health, told TriplePundit. "Now, the sustainability of food consumption is an integral part of our nutritional guidelines."
The new guidelines reflect the health, economic, social and environmental aspects of food, Safra explained. The Mediterranean diet—rich in fruits, vegetables, nuts, fish and olive oil, and low in red meat, sugar and processed foods—reflects each of these components, she told us.  
Labels encourage healthier choices
The Mediterranean diet is one of the healthiest and most well-studied diets in the world. Studies have shown it can prevent cardiovascular disease, improve memory and cognition in older adults, ward off specific types of cancer and protect against type 2 diabetes.
With all of that going for it, the Israeli government wants to ensure that the diet is the primary one for its citizens. To that end, it is shining a light on the danger of processed foods—especially so-called "ultra-processed foods," which are made with limited unprocessed ingredients and consist mainly of sugars, oils, fat, salt and additives.
Recognizing that what people see at the store can influence their purchasing decisions, the Ministry is looking to design the grocery experience "in a way that will help people make the healthy choice," Safra said. Starting in 2020, the government will require food products to bear a red label if they are too high in sodium, saturated fat or sugar, while healthier foods will be stamped with a green label.
Calling for food industry innovation
The coming regulations "already have manufacturers reformulating products with less sodium and sugar, because they don't want a red label," Safra said—and this is exactly the kind of response the Ministry hoped to see. "We see it as our role to help guide the market in the right direction," she told us. "The industry can't ignore this." Furthermore, consumers are increasingly demanding this change from food companies, she added. 
Tivall brand responds to consumer preferences
Osem, a major Israeli food manufacturer that Nestlé acquired three years ago, is one company responding to these trends. Osem's Tivall brand focuses on prepared, plant-based food products that are "nutritious, made from high-quality raw materials and with no preservatives due to our fast-freeze technology," said Adi Kabir Kohali, CEO of Tivall. 
Founded in 1985 on a kibbutz, Tivall launched with a focus to offer meat alternatives that would appeal to vegetarians and omnivores alike. As in many other countries, the vegetarian and vegan population has grown in Israel. And at nearly 4 percent, Israel now has the highest per-capita vegan population in the world (8 percent vegetarian), the Times of Israel reports.   
"When Tivall started, the vegetarian population wasn't as large as it is now," Kohali recalled. Even with plant-based food products on the rise, Tivall estimates that sales to vegans and vegetarians represent only around 30 percent of its overall revenue. "We have a wide range of products which are not meat analog but vegetable-based, such as falafel, corn schnitzel and patties," Kohali explained. "The Mediterranean diet offers a wide variety of vegetable-based products, and this is part of the Israeli diet."
Many of Tivall's products are fortified with protein, iron and B12, "in order to support our consumers that want to decrease their meat consumption but still want to keep a balanced diet," Kohali told us. 
Still, it wasn't always smooth sailing for Tivall. In the early 2000s, the company received criticism for a lack of nutritional value in its products— which at the time were made mostly from soy—leading to a decline in public trust. 
"In the last few years, many changes have been made in the products to support consumer needs" and align with Nestle's standards for health and nutrition, Kohali said. "This also impacted the trust level. Consumers see the 'new Tivall' as healthier and tastier."
Healthier food is here to stay
Companies across Israel's food sector are embracing this type of change. And industry sees the pull toward healthier food as a long-term shift, rather than a passing trend, said Galia Sagy, executive director of the Food Industries Union at the Manufacturers Association of Israel.
"Food manufactures in Israel are working to reduce sugar and sodium levels, as well as improving the fats that are used in food production," Sagy told TriplePundit. "Food companies have and still are investing vast amounts of time and money in both improving existing products and developing new, innovative and healthy food products."
The focus on health "brings many opportunities for innovation," she said. For example, through the Food Industries Union, several Israeli companies recently committed to advertise food more responsibly to children. Namely, these food companies have pledged not to target children under 12 when advertising products marked with the
Ministry of Health's red label. The Israeli Marketing Association and the country's Chamber of Commerce have since signed on to the commitment, Sagy told us, indicating it may soon be the standard nationwide. 
Stakeholder engagement is essential
Still, it remains challenging to get industry and academia to collaborate effectively around health and nutrition, Sagy noted. "Cross-sectoral collaboration is essential in promoting a healthier lifestyle, including government, civil society, food industry, academia, regulators [and] startup companies," she said. "The issue of food and health is of national interest and requires a nationwide movement."
Image credit: Netanel Tobias
More From TriplePundit
Monday, April 13, 2020 - 2:50pm
Tuesday, March 17, 2020 - 9:30am
Tuesday, March 3, 2020 - 1:00pm