LBG Canada & The Works Design Communications Present: The Top Ten Tips for Effective Reporting
LBG Canada & The Works Design Communications Present: The Top Ten Tips for Effective Reporting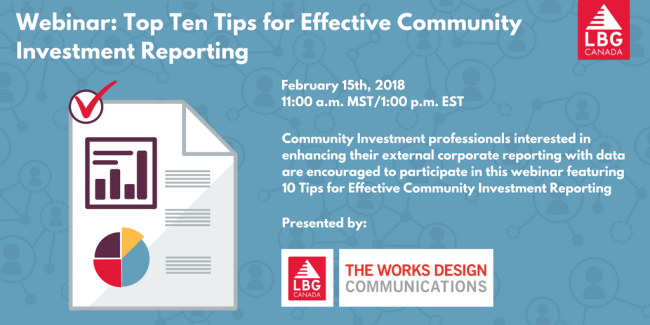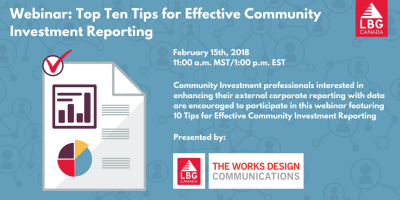 tweet me:
Join @theworksdesign and #LBGCanada for the Top Ten Tips for External Reporting #webinar on Feb 15. Learn key #reporting #trends and see examples of best-in-class reports! Register now! http://bit.ly/2BPwZy4
Friday, February 2, 2018 - 6:00pm
TORONTO, February 2, 2018 /3BL Media/ - London Benchmarking Group (LBG) Canada and The Works Design Communications partner to bring you The Top Ten Tips for Effective Community Investment Reporting.
On Thursday, February 15th, 2018 community investment professionals interested in enhancing their external corporate reporting with data are encouraged to attend this web-based discussion. The webinar will include key reporting trends with examples of 'best-in-class' reports backed by the use of salient data.
"LBG Canada is a network of top companies leveraging their community investment data to report on impact. We are pleased to partner in the delivery of this webinar with The Works Design Communications, a firm we consider to be a leader in the field of corporate reporting," explains Arundel Gibson, AVP Community Investment & Social Impact, SiMPACT Strategy Group and Facilitator, LBG Canada.
Webinar and registration details below:
Thursday, Feburary 15th, 2018
11:00 a.m. MST/1:00 p.m. EST
GoToMeeting Platform - dial-in details will be e-mailed upon registration.
To register, please contact: communications@simpactsg.com
To learn more about LBG Canada, please visit: http://www.lbg-canada.ca. To learn more about The Works Design Communications, please visit: http://www.worksdesign.com.
-30-
About LBG Canada
LBG Canada is a network of corporate community investment professionals from many of Canada's leading companies, who work together to apply, develop and enhance the use of the LBG Model and measurement framework in Canada. Participation in LBG Canada encourages companies to focus on strategy, measurement and reporting to demonstrate the business value achieved through investment in community. LBG Canada is facilitated by SiMPACT Strategy Group.
About The Works Design Communications
The Works is an integrated communications studio specializing in Corporate Social Responsibility (CSR) consulting and reporting, investor relations communications, branding and collateral development. The Works acts as strategic advisors and candid counsel to Canada's top brands and leading institutions - ensuring that when it comes to communicating with stakeholders, clients are focused on the priorities, metrics, systems and tactics that will enhance their purpose, reputation and performance.
More From SiMPACT Strategy Group
Thursday, January 14, 2021 - 12:15pm
Thursday, December 17, 2020 - 2:40pm
Monday, September 14, 2020 - 7:00pm
Videos from SiMPACT Strategy Group