Investing for a More Sustainable Future
Investing for a More Sustainable Future
The investments UPS has made in 2017 are leading to a major transformation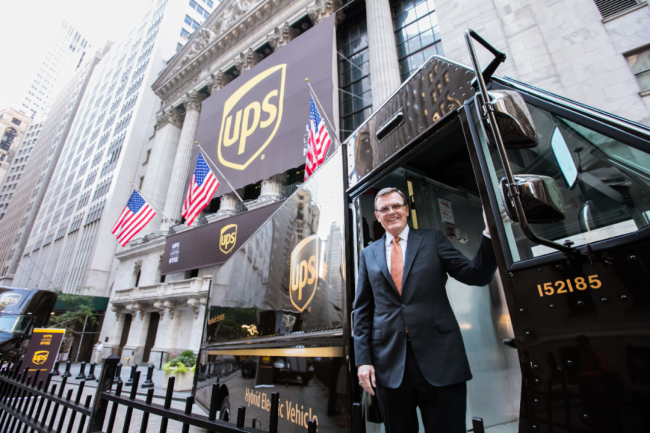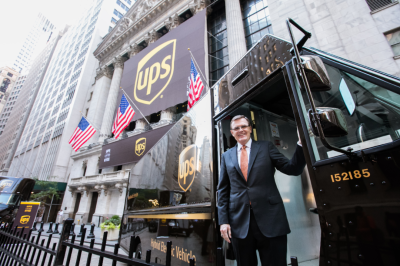 tweet me:
.@UPS #CEO explains how investments in technology are leading to a major transformation in the company's efficiency and sustainability http://bit.ly/2ISMA3u
Thursday, July 5, 2018 - 1:20pm
David Abney | UPS Chairman and Chief Executive Officer
In 2017, UPS embarked on a major transformation that will result in the most significant upgrade of our operations in decades. We are exploring real-time data, mobile connectivity, robotics, blockchain, and other cutting-edge technologies to seamlessly integrate our digital and physical networks, modernize our facilities and fleet, and better manage our operations.
This transformation will increase capacity so we can deliver more freight and parcels, improve network flexibility to shift volume to alternative transportation modes and UPS processing locations in response to weather or other contingencies, and enhance service dependability by reducing the chance of human error. Further, these technologies will generate significantly improved facility and fleet operating efficiency by capitalizing on innovations that advance our sustainability goals, which include using more renewable electricity and alternative fuels, and reducing our greenhouse gas emissions in absolute terms.
In 2017, we continued expanding our "rolling laboratory" — UPS's fleet of approximately 9,100 alternative fuel and advanced technology vehicles. As part of our recent $90 million investment in natural gas infrastructure, we added nearly 1,200 vehicles and powered this specialized fleet with more than 115 million gallons of lower-carbon fuels. 
UPS has a long history with electric vehicles, having introduced them into our fleet in the 1930s. We accelerated our efforts in 2017 with our pre-order for 125 of the Tesla fully electric Semi trucks when they begin production in 2019. We're also collaborating with another supplier, Workhorse Group, to deploy electric delivery vehicles that are comparable in acquisition cost to conventional gasoline- or diesel-powered trucks — an industry first that removes a key barrier to large-scale adoption. These new vehicles will need recharging, so in 2017 we joined a consortium in the United Kingdom to deploy smart-grid technology that enables simultaneous recharging of an entire fleet of electric vehicles. If feasible, this technology will eliminate the need for expensive upgrades to the power grid.
This electrification strategy is part of broad-based collaborations with city partners to develop new package delivery solutions that limit congestion, smog, and noise — critical issues in dense urban areas. In 2017, we launched a "depot-to-door" pilot in London that uses an electrically assisted trailer to deliver packages from a central location. In Dublin, we introduced an "eco package hub," a mini distribution center from which UPS drivers make deliveries by foot or eBike. With more than 1,000 electric or hybrid electric vehicles in operation around the world, we expect to continue leading the charge on fleet electrification and innovative urban logistics solutions. 
The new technologies we're testing — and deploying — provide benefits that extend far beyond operational efficiencies and environmental improvements. They also help UPSers around the world work safer and smarter. In 2017, we invested more than $209 million in safety training, including virtual reality technology that helps employees practice defensive driving techniques in real-world simulations.
In addition, we expanded the use of collision mitigation systems on our vehicles to help keep drivers and the public safe on the road. Today, more than 60 percent of our tractor-trailer trucks are now equipped with this technology. With these investments bolstering our health and safety programs, we expect to continue to lead the industry with low accident and injury rates.
UPS's proud legacy of innovation also extends to our community partners around the world. For decades, we have helped humanitarian relief organizations use innovative logistics technologies to respond to disasters more efficiently and effectively. In 2017, we worked with American Red Cross and drone manufacturer CyPhy Works to test drones for assessing damage in the wake of disasters. We also expanded our groundbreaking drone delivery partnership with Zipline and with Gavi, the Vaccine Alliance — doubling the number of facilities that receive urgent medical supplies in remote areas of Rwanda. 
I am proud of the progress we have made and proud of the ingenuity of UPSers to develop innovative business and sustainability solutions. However, 2017 was not without its challenges. E-commerce growth continued to drive unprecedented package volume, and, in our business, more package volume means more miles and emissions. While we did not progress as fast as planned to reach all of our environmental targets in 2017, I am confident that the investments we are making today will accelerate progress toward our 2020 and 2025 goals. We will continue to explore and develop new solutions to make the industry's most efficient network even more sustainable.
More From UPS
Thursday, July 30, 2020 - 4:30pm
Thursday, July 23, 2020 - 4:00pm
Thursday, July 16, 2020 - 7:50am