Important Dialogue - Community Investment Has a Role to Play in a Diversity & Inclusion Strategy
Important Dialogue - Community Investment Has a Role to Play in a Diversity & Inclusion Strategy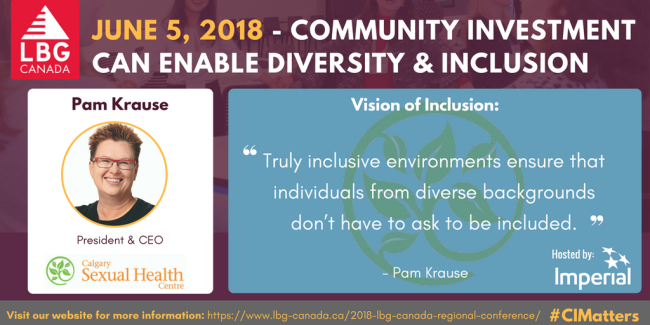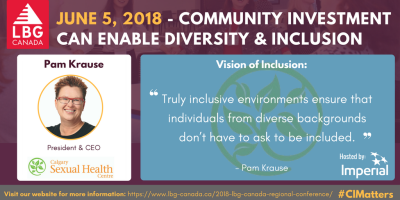 tweet me:
Join #LBGCanada for an important dialogue on how #communityinvestment has a role to play in a #diversityandinclusion strategy, June 5, 2018 in Calgary. http://bit.ly/2rsvXox
Monday, May 7, 2018 - 2:25pm
May 7, 2018 /3BL Media/ - Join LBG Canada companies on June 5, 2018 in Calgary, as we discuss community investment's role in a diversity and inclusion strategy.
Pam Krause, President & CEO of the Calgary Sexual Health Centre, joins panelists that include leaders influencing corporate thinking on abilities, LGBTQ inclusion, Action 92 and Indigenous inclusion, and the UN Sustainable Development Goals.
To access the agenda, please visit: https://www.lbg-canada.ca/lbg-canada-western-conference-agenda/
To register for the 2018 LBG Canada Western Conference, please visit: https://www.lbg-canada.ca/regional-meetings-contact-form/
Join the conversation! #CIMatters
About LBG Canada
LBG Canada is a network of corporate community investment professionals from many of Canada's leading companies, who work together to apply, develop and enhance the use of the LBG Model and measurement framework in Canada. Participation in LBG Canada encourages companies to focus on strategy, measurement and reporting to demonstrate the business value achieved through investment in community. LBG Canada is facilitated by SiMPACT Strategy Group. For more information, please visit: https://www.lbg-canada.ca
More From SiMPACT Strategy Group
Thursday, January 14, 2021 - 12:15pm
Thursday, December 17, 2020 - 2:40pm
Monday, September 14, 2020 - 7:00pm
Videos from SiMPACT Strategy Group