INFOGRAPHIC | P&G's Commitment to Reducing Plastic Waste Flowing Into the World's Oceans
INFOGRAPHIC | P&G's Commitment to Reducing Plastic Waste Flowing Into the World's Oceans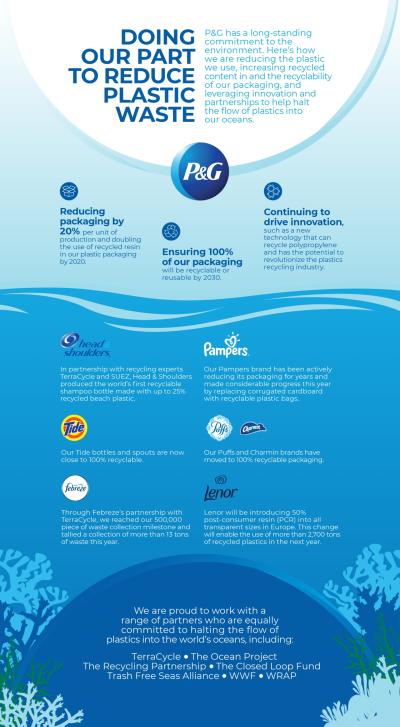 tweet me:
This #infographic shows @ProcterGamble's commitment to reduce amount of #plastic #waste ending up in the world's oceans http://bit.ly/2K4msHi #BeatPlasticPollution #SDGs
Thursday, August 2, 2018 - 9:35am
P&G has reiterated its commitment to find solutions so that no P&G packaging finds its way to the world's oceans. This builds on the Company's leadership efforts in reducing its use of plastics in its packaging, increasing the amount of recycled plastic it is using and helping create the right infrastructures to enable recycling.
Currently, 86% of P&G's packaging is recyclable, and the Company has strong, ongoing efforts to further increase recyclability. It recently announced the creation of an innovative technology, that it has licensed to PureCycle Technologies, that can recycle polypropylene into nearly new condition which has the potential to revolutionize the plastics recycling industry. P&G's new environmental goals, dubbed Ambition 2030, include two packaging goals - that 100% of packaging will be recyclable or reusable and that it will find solutions so no P&G packaging will find its way to the world's oceans.
To find out more about P&G's commitment, click here.
More From P&G
Wednesday, April 29, 2020 - 9:55am
Wednesday, April 29, 2020 - 8:05am
Monday, March 16, 2020 - 9:15am