INFOGRAPHIC | P&G New "Ambition 2030" Environmental Sustainability Goals Span Brands, Supply Chain, Society and Employees
INFOGRAPHIC | P&G New "Ambition 2030" Environmental Sustainability Goals Span Brands, Supply Chain, Society and Employees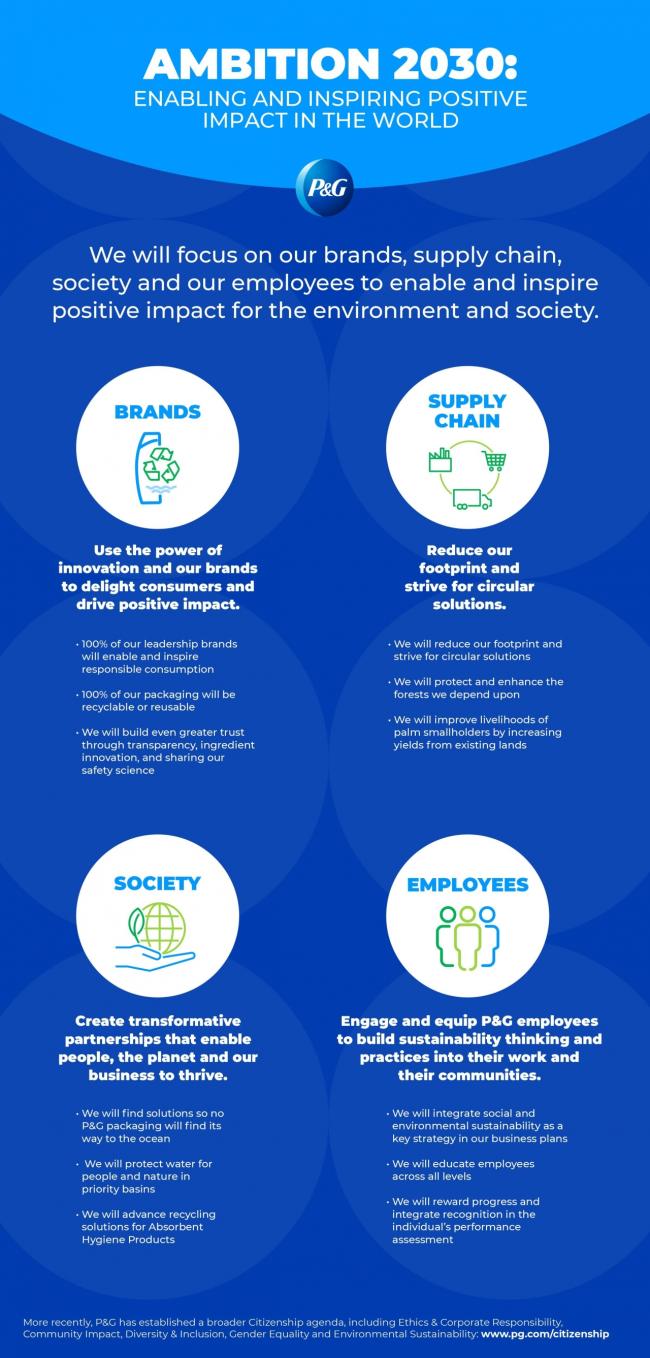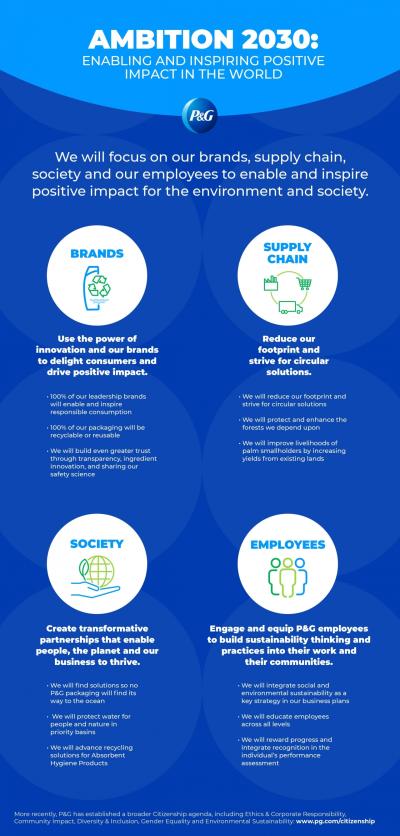 tweet me:
This #infographic from @ProcterGamble outlines the company's #2030goals http://bit.ly/2lgWEK2 #sustainability #SDGs
Tuesday, July 10, 2018 - 8:30am
"We believe P&G can be a force for good and a force for growth, and we are taking a more deliberate approach to delighting consumers while enabling responsible consumption," said David Taylor, P&G's Chairman, President and Chief Executive Officer. "Consumers expect the brands they trust to deliver superior performance and to also help solve some of the most complex challenges facing our world. Our global reach, our understanding of the five billion consumers we serve, and our innovation capabilities give us a unique ability to make a positive difference."
P&G's "Ambition 2030" goals include:
Brands: P&G's 20 leadership brands including Always, Ariel, Dawn, Fairy, Febreze, Head & Shoulders, Pantene, Pampers, and Tide will enable and inspire responsible consumption through packaging that is 100% recyclable or reusable, launching more sustainable innovations, and building trust through transparency and sharing our safety science.
Supply Chain: P&G manufacturing sites will cut greenhouse gas emissions in half, and will purchase enough renewable electricity to power 100% of our plants. The Company will also source at least 5 billion liters of water from circular sources.
Society: P&G will continue to create transformative partnerships that enable people, the planet and our business to thrive, including those that stem the flow of plastic into the world's ocean, protect and enhance forests, expand recycling solutions for absorbent hygiene products, and protect water in priority basins around the world.
Employees: P&G will engage, equip and reward employees for building sustainability thinking and practices into their everyday work. We will reward progress and integrate recognition into performance assessments.
More From P&G
Wednesday, April 29, 2020 - 9:55am
Wednesday, April 29, 2020 - 8:05am
Monday, March 16, 2020 - 9:15am