How to Support Thriving Workforces: KeyBank Provides $1 Million Grant to New Haven Career Training Non-Profit
How to Support Thriving Workforces: KeyBank Provides $1 Million Grant to New Haven Career Training Non-Profit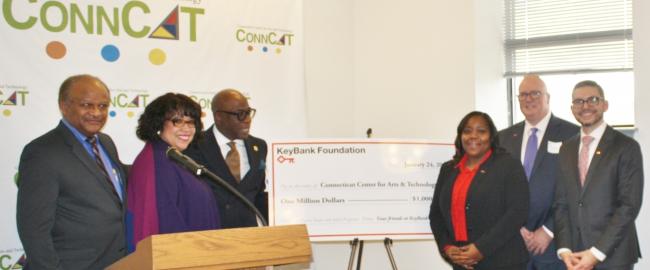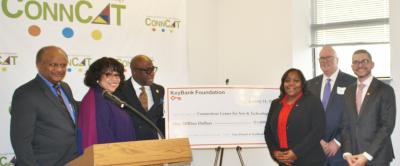 tweet me:
The @KeyBank Foundation deepens workforce development commitment with $1M grant to @CONNCAT2012 http://bit.ly/2GEt0ai
Monday, February 26, 2018 - 11:00am
At a gathering of more than 80 business and community leaders in New Haven, Connecticut, the KeyBank Foundation announced a $1 million, multi-year grant to the Connecticut Center for Arts and Technology (ConnCAT). The funding is earmarked to support ConnCAT's career training and advancement programs for adults in Greater New Haven.
The grant to ConnCAT is part of the deeply engrained commitment of the KeyBank Foundation's—and KeyBank, as a whole—to supporting thriving workforces. The Bank's philosophy is that workforce growth and business development help communities flourish. In 2016, KeyBank solidified this commitment and philosophy with the release of their National Community Benefits Plan—a $16.5-billion, five-year commitment to development in communities served across the country.
ConnCAT provides unemployed and under-employed adults with job training, educational and career advancement programs, in addition to after-school arts programs for at-risk youth. The goal of the KeyBank Foundation grant is to increase retention, graduation, certification and employment rates for program participants, developing skilled workers that contribute to the health of communities.
"We are excited to be partnering with ConnCAT to bring career opportunities to the New Haven community," says Margot Copeland, CEO and chair of the KeyBank Foundation. "ConnCAT is working to transform lives for the New Haven residents that need it most. That mission aligns with our own, and we are proud of the long-term impact this investment will make on economic prosperity in New Haven."