How Are You Using Pro Bono as a People Strategy? | Taproot's Advisory Services Newsletter
How Are You Using Pro Bono as a People Strategy? | Taproot's Advisory Services Newsletter
In this issue: Taproot Celebrates Pro Bono Week 2018, a new resource, tips on recruiting volunteers, and more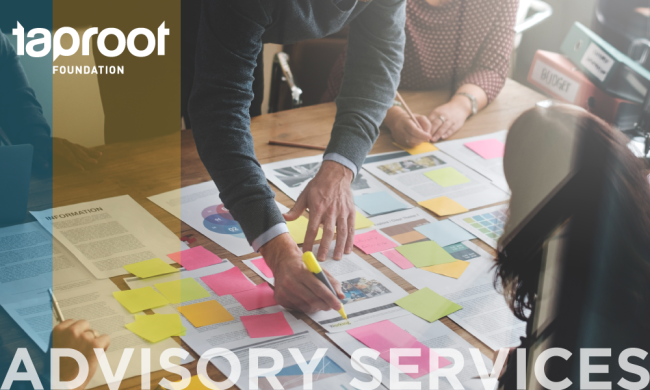 tweet me:
The latest in corporate #probono from @TaprootFound: Pro Bono as a People Strategy, a quick consult on volunteer recruitment, and more. ---> http://bit.ly/2ORdJLZ #CSR #PBW18
Thursday, October 25, 2018 - 1:05pm
Pro Bono Week 2018 Spotlight: The Skilled Volunteers Behind Pro Bono 
This week, social good organizations across four continents will receive pro bono services during Pro Bono Week. This annual celebration of the pro bono ethic honors thousands of professionals who volunteer their skills and expertise to support nonprofits all around the world. Pro Bono Week reminds us how crucial and important skilled volunteers are in helping to build the capacity of the social sector. By donating their time and expertise, pro bono volunteers have the chance to give back, connect with their communities, and deepen their skillsets. 
In this issue, we take a look at the volunteer experience—from how to make pro bono service an attractive and exciting opportunity for employees to one employee's motivation for volunteering her skills.
A win-win for volunteers and your company ---> Read more
In business, our people are our greatest asset. Learn how to invest in your people strategy through pro bono service. Pro bono can help companies meet key HR objectives like attracting, developing, and retaining talent. See how four companies are aligning their pro bono and HR strategies for greater investment in our latest piece: Pro Bono as a People Strategy: How companies can create shared value between CSR and HR.
How to get your volunteers on board ---> Read more
Wondering how to recruit employees efficiently and effectively for your pro bono program? Taproot Senior Consultant & Market Lead Jess Hammerman shares some successful strategies for recruiting employees in this Quick Consult. From internal communications tactics to funding competitions, Jess has a few ideas to get you started.
More From Taproot Foundation
Thursday, December 5, 2019 - 10:15am
Thursday, November 21, 2019 - 12:30pm
Thursday, October 31, 2019 - 9:15am