A Housing Lift for Those Who Protect and Serve
A Housing Lift for Those Who Protect and Serve
From firefighters and police officers to veterans, hundreds of first responders across the U.S. have become homeowners with help from Wells Fargo's NeighborhoodLIFT® program.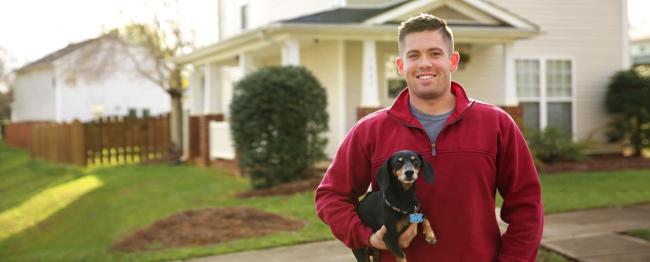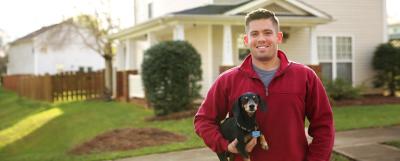 tweet me:
Firefighters, police officers, veterans, first responders have become #homeowners with help from @WellsFargo's NeighborhoodLIFT® program. http://bit.ly/2UfV5z3
Friday, March 29, 2019 - 9:00am
From the first time he set foot in a fire station, David Budd felt like he was home. As a boy, he had fallen in love with the idea of being a firefighter and spent years working to become one. It was a proud moment when he eventually landed a full-time job as a first responder.
But that was nothing compared to the day he walked into his first home as a homeowner, said the 23-year-old native of suburban Charlotte, North Carolina.

"Sure, I'm young, but I knew I was ready to buy a house whenever the time was right," said the firefighter for the Charlotte Fire Department. "It definitely took a while, but was well worth it. Now I've got a girlfriend, and she really likes the house too."

Budd bought his home with the help of a grant from Wells Fargo's NeighborhoodLIFT® program, which provides down payment help and homeowner education to qualified buyers with moderate or low incomes. Down payment assistance grants can total up to $15,000 for most recipients.

For Budd and other first responders such as police officers and emergency medical technicians, the program offers potentially added benefits, expanded income eligibility limits, and an extra $2,500 for down payments. Veterans and teachers are also eligible for the added benefits.

Since Wells Fargo rolled out the first responder benefits in 2018, more than 600 recipients across the U.S. have qualified for them, including firefighters in Kansas City, teachers in Des Moines, police officers in Chicago, and military veterans in Washington, D.C.

Since the overall program started in Los Angeles in 2012, Wells Fargo has poured more than $455 million into affordable and sustainable homeownership and neighborhood revitalization through NeighborhoodLIFT and other related work in nearly 70 programs nationwide. In collaboration with NeighborWorks® America and its network members, NeighborhoodLIFT represents the largest single philanthropic program in Wells Fargo's history.

By providing enhanced LIFT benefits for qualified first responders, the company aims to take the program to the next level in terms of recognizing their service to their communities, said Kimberly Smith-Moore, national LIFT programs manager with the Wells Fargo Foundation, which funds the LIFT initiatives.

"We feel it is a significant way to honor people who put their lives on the line every day to protect the public, who educate the next generations, and who have protected this country through military service," she said. "It fulfills one of Wells Fargo's top goals to invest in the communities we serve by making the dream of homeownership possible."

In October 2018, Wells Fargo launched its latest NeighborhoodLIFT program in Charlotte, committing $6.85 million to boost homeownership in the metro area.

For Budd, it came at just the right time — shortly after he joined the city's fire department while attending the University of North Carolina at Charlotte. He said the full-time salary enabled him to feel confident he could afford to become a first-time homeowner. During this time, a friend told him about the NeighborhoodLIFT program, its down payment assistance, and the added financial grant it offers firefighters and other first responders.

He eventually qualified for NeighborhoodLIFT and culminated a long, tough house-shopping process by making an offer on a home in the Charlotte suburb of Huntersville — Budd's hometown. It was accepted, and he closed just before last Christmas.

While LIFT recipients can use any participating lender they choose, Budd said he received his financing from Wells Fargo.

"Their interest rate was as good as any out there," he said. "So I wasn't really concerned about the interest rate. It was a matter of who I trusted. Whenever I called Wells Fargo for more information, the lending agent had all the answers. She just knew what she was talking about, and you could tell it. That made the process go 10 times easier, which was awesome. It was my first time doing this, and often I felt like I didn't know what was going on."

Kendall Alley, head of the Wells Fargo's Charlotte region, said NeighborhoodLIFT is part of the company's longstanding commitment to affordable housing in the community.

"Working together with nonprofits to offer down payment assistance grants and homebuyer education can make a big difference for homebuyers, including local veterans, teachers, firefighters, and first responders who serve the Charlotte community and call it home," he said.
More From Wells Fargo
Friday, October 16, 2020 - 9:05am
Thursday, October 15, 2020 - 12:05pm
Friday, October 9, 2020 - 8:15am