This Healthcare Company Is Determined to Have the Healthiest Employees in the World
This Healthcare Company Is Determined to Have the Healthiest Employees in the World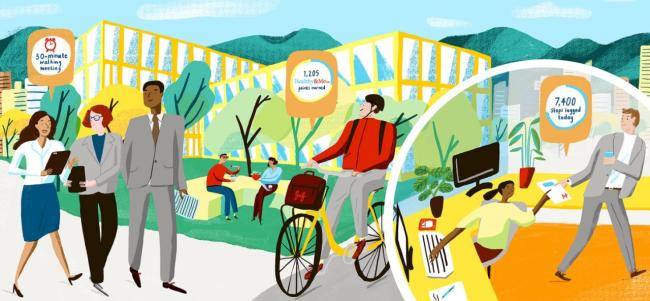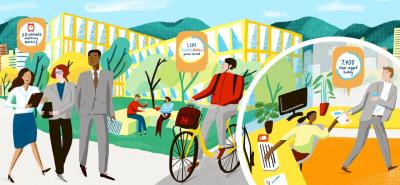 Sunday, February 25, 2018 - 8:00am
Johnson & Johnson is marching toward a lofty goal: help 100,000+ employees be at their personal best when it comes to their health and well-being by 2020. Here's how it's getting the job done.
By Andrea Bartz
At the start of the 20th century, the concept of "workplace wellness," if it had existed, would have been an oxymoron: The American Industrial Revolution was afoot, and many workers were putting in long hours in dangerous conditions without breaks or benefits.
But Johnson & Johnson has always been more of a trend starter than a follower.
More than a century ago, the company bucked convention by offering employees in New Brunswick, New Jersey, access to an on-site health center, as well as fitness facilities, complete with a swimming pool and a basketball court.
By the 1970s, "CEO James Burke started a groundbreaking wellness program called Live for Life®," says Peter Fasolo, Ph.D., Executive Vice President and Chief Human Resources Officer, Johnson & Johnson.
Live for Life sought to help Johnson & Johnson employees become some of the healthiest in the world through on-site access to behavior modification tools and education on topics like nutrition, stress management and more. "As a result of that initiative," says Fasolo, "we were the first company to be tobacco-free, as well as one of the first to promote employee safe driving and to have a global HIV prevention program."
Since then, Johnson & Johnson has continued to be an industry leader, most notably with its best-in-class health and well-being programs and such work-life offerings as expanded parental leave policies, fertility and surrogacy support and generous veterans' benefits, just to name a few. "We're meeting employees in a 21st century manner to help them balance and lead a purpose-driven life," explains Fasolo.
This week, Fasolo will be speaking at the Lake Nona Impact Forum, an annual gathering in Orlando, Florida, that gives thought leaders from healthcare and the tech sector a chance to exchange ideas.
And given that Johnson & Johnson is on track to reach its stated goal of engaging 100,000 or more employees toward a personal best in health and well-being by 2020, it has a lot of insight to share.
More From Johnson & Johnson
Monday, October 7, 2019 - 1:40pm
Wednesday, August 14, 2019 - 11:00am
Thursday, August 8, 2019 - 10:00am