[GUIDE] Roadmap to Results: A Corporate Funder's Guide to Impact
[GUIDE] Roadmap to Results: A Corporate Funder's Guide to Impact
Get the Roadmap to a Results-Driven CSR Strategy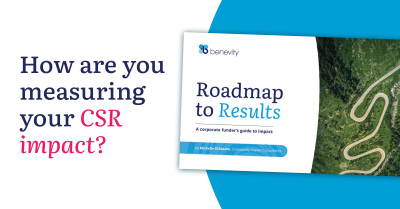 tweet me:
You've put in the hard work. Now you need to measure the results! @CmtyImpact shares with @benevity the corporate funder's guide to impact with 8 key steps, strategies and tools to measuring success! #ForGoodnessSake https://bit.ly/34bwP42
Tuesday, September 29, 2020 - 10:50am
NEWSROOM: Benevity
CONTENT: Multimedia with summary
As a corporate funder, how can you invest more strategically to meet your social and business goals? In this guide, Michelle DiSabato, Founder and President of Community Impact Consultants, Inc. walks you through a step-by-step approach to a more impactful and measurable action plan. 
Download this corporate granting guide to get:
​8 steps to results-driven CSR strategy
How to develop useful measures of success
Key strategies for linking social impact and business purpose
More From Benevity
Thursday, October 29, 2020 - 4:30pm
Thursday, October 22, 2020 - 10:20am
Tuesday, October 20, 2020 - 8:15am