Finding Your Inner Wolf: Dan Schulman's 'Never Stand Still' Conversation with World Cup and Olympic Champion Abby Wambach
Finding Your Inner Wolf: Dan Schulman's 'Never Stand Still' Conversation with World Cup and Olympic Champion Abby Wambach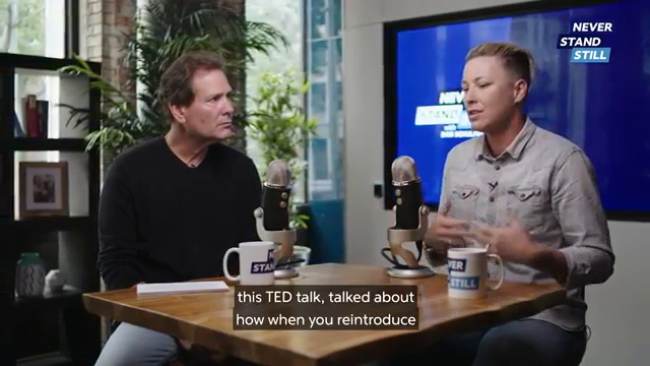 tweet me:
.@PayPal's Dan Schulman talks with @USWNT World Cup and Olympic Champion Abby Wambach about leadership and venturing off the path http://bit.ly/2Y5bcO1
Monday, July 22, 2019 - 12:00pm
Last year, my wife—who is a professor at Barnard College—came home from the school's spring commencement ceremony and said to me, "I just listened to the best commencement address I've ever heard."
Considering I was giving the commencement speech at Rutgers University a few days later, I jokingly tried to clarify that opinion with her, but she didn't skip one beat before correcting me: "Nope, the best commencement I have ever heard." It had been delivered by World Cup and Olympic Champion Abby Wambach.
My wife wasn't the only one who thought the speech was inspiring. Abby's address quickly went viral, and it became a unifying call to action for women to unleash their power and change how they lead. Abby has since turned the message from that speech into a book, Wolfpack, which offers all of us lessons in life and leadership. I was honored to speak with Abby about her story to kick off season two of my conversation series, "Never Stand Still."
Below I have included three takeaways from our conversation. You can find the full episode on YouTube, Spotify and Apple Podcasts.
Demand the "ball."
Abby shared with me that a pivotal moment in her personal journey came after her ESPY Award win, when she realized that she and her male counterparts were heading into very different retirements. "Their hustling days were over, and mine were just beginning," Abby said. "They had to figure out where they were going to invest and spend their hundreds of million dollars collectively earned, and I had to figure out how the hell I was going to pay my mortgage." It was after this revelation that Abby came to understand that her story was part of a larger pattern. She dedicated herself that night to ensuring that people—women especially—were given the confidence to not just be grateful, but to demand what they deserved and had earned. This is critical in business, but also goes both ways, with leaders needing to prevent and solve for inequalities so that the burden isn't solely on employees. Abby's rallying cry to ensure that no one has the experience of "feeling less than" resonated with what we're trying to accomplish at PayPal, and is part of our broader value system for the company.
Don't be afraid to venture off the path.
It's tempting to do what feels comfortable or conventional. But whether it was my gap year between high school and college when I drove trucks, or my decision to take a risk and leave a great job at AT&T after 18 years, I've experience firsthand that these unconventional paths or bold decisions lead to some amazing destinations. In a similar spirit to "never standing still," Abby shared her own take on this approach to her career: "For me, everything good in my life has happened when I ventured off the path, every single thing… Nothing good really does happen when you follow the herd. You have to step off and do something that is uniquely your own."
Deep connections and opportunities lie in failure and vulnerability.
In her career, Abby has experienced some of the highest highs a professional athlete could imagine. She is an two-time Olympic gold medalist and World Cup champion, and widely acknowledged as one of the greatest soccer players of all time. But, like most of us, Abby has also faced some serious struggles. She was glad I asked her about them, because she noted, "the real stuff is where people lean in…where they kind of like secretly raise their hand like, 'Me too,' and they then in that moment feel less alone." During a point in her life when she was struggling with an alcohol addiction, Abby was charged with a DUI. But instead of letting the embarrassment and media attention consume her, she met it head on. She told me she took pictures of her name scrolling across TV chyrons and saved them to her phone so she'd never forget. And she called her mom that night to say, "I'm gonna turn this into the best thing that ever happened to me." Abby reminded me that none of us—whether in business, in sports, or in life—have had a path that's been entirely straight up and to the right. And it's in sharing these moments with each other, and how we've learned from them, that we can better connect and build empathy for each other.
My thanks to Abby for such an honest and inspiring conversation to kick off the second season of Never Stand Still. I hope all of you enjoy it as much as I did.
More From PayPal
Friday, May 7, 2021 - 8:00am
Tuesday, April 27, 2021 - 1:05pm
Tuesday, April 13, 2021 - 3:00pm