FedEx Express Rewards Young Entrepreneurs Ready to Access New Markets
FedEx Express Rewards Young Entrepreneurs Ready to Access New Markets
FedEx Express Awards Student-Run Company FedEx Access Award At JA Europe Company of the Year Competition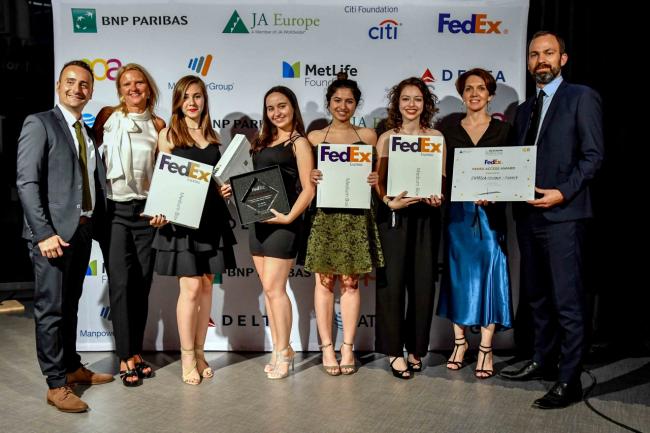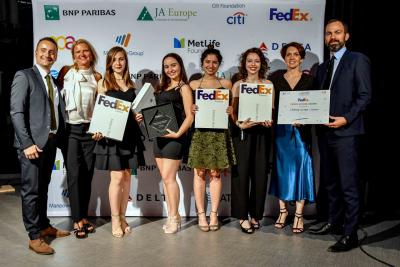 tweet me:
.@FedEx Express awards a student-run company the FedEx Access Award at JA Europe Company of the Year Competition for its development of a solar energy pump: http://bit.ly/2Y9kbSl
Friday, July 19, 2019 - 10:00am
July 18, 2019 /3BL Media/ FedEx Express, a subsidiary of FedEx Corp (NYSE: FDX), awarded its signature FedEx Access Award to student-run company Entella, from Turkey, at the JA Europe Company of the Year Competition, Lille, France on 5 July 2019.
Entella, a company established by 10 students from Turkey, took home the award for its development of a solar energy pump that filters water to remove solid waste.
Harald Schoenfelder, vice president, Clearance Operations, FedEx Express Europe and award judge: "As an enabler of international trade, FedEx connects companies to new markets as part of our everyday business.  Through the FedEx Access Award, we are able to inspire the next generation of entrepreneurs to make the most of opportunities made possible by global connectivity."
The signature award was designed to incorporate the notion of "access" into the core thinking of future entrepreneurs.  It recognizes the student-run company that best demonstrates innovation, a readiness to access global markets, a contribution to socio-economic development, and a responsible approach to environmental sustainability.
"We're very happy that FedEx Express recognises our innovative product and the environmental mindset that drove us during its conception. Winning the FedEx Access Award shows that our product can be relevant in all markets, and gives us energy and confidence to go further and play a part in reducing water pollution." said Arya Yurdacan, CEO of Entella.
"As a global company, itself founded by an entrepreneur, FedEx Express brings a valuable perspective to the students in the JA Company Program.  The FedEx Access Award recognises young entrepreneurs that demonstrate a readiness to capitalise on the benefits of modern e-commerce and global trade.  The ability to seize the moment and maximize it to achieve business success, is a quality often seen in successful entrepreneurs. The expertise that FedEx Express shares with Company Program students during their very first business ventures, undoubtedly helps to embed this thinking," said Caroline Jenner, CEO, JA Europe.
Global Entrepreneurship is a core focus area of FedEx volunteering and financial investment strategy, FedEx Cares. Through collaborations with non-profit organisations FedEx aims to connect individuals to new possibilities by delivering measurable and meaningful benefits to people and communities around the world.
More From FedEx Corporation
Thursday, December 3, 2020 - 11:15am
Monday, November 30, 2020 - 12:45pm
Friday, November 20, 2020 - 12:15pm