Emilio Tenuta, Vice President of Corporate Sustainability at Ecolab, Joins WEC Board
Emilio Tenuta, Vice President of Corporate Sustainability at Ecolab, Joins WEC Board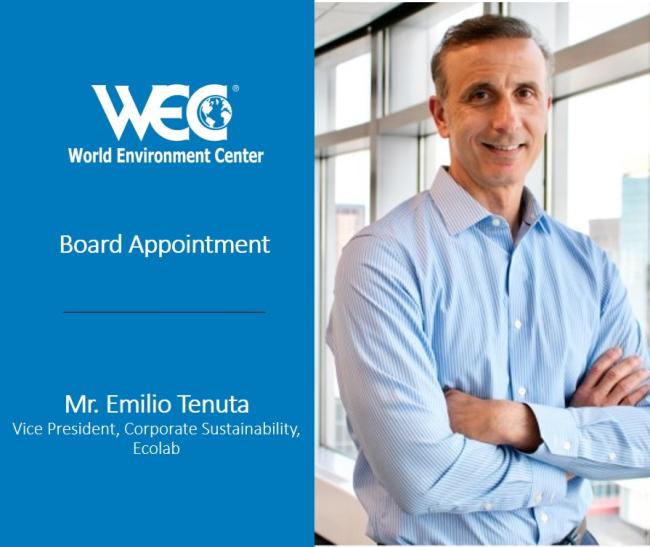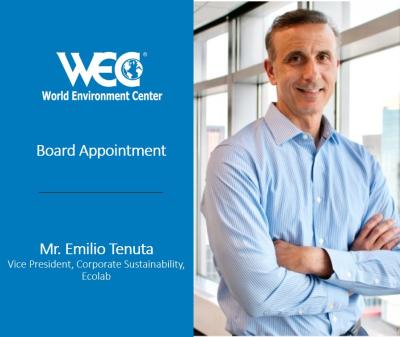 tweet me:
.@WorldEnvCenter is pleased to announce appointment of @emiliotenuta to the WEC's Board of Directors #boardmembers http://bit.ly/2MkCKZH
Tuesday, September 11, 2018 - 3:00pm
September 11, 2018 /3BL Media/ - The World Environment Center (WEC) is pleased to announce the appointment of Emilio Tenuta, vice president of Corporate Sustainability at Ecolab, to its board of directors.  
Tenuta is a recognized sustainability leader and for the last six years, has led Ecolab's sustainability strategy focused on corporate responsibility, internal environmental stewardship and helping customers operate more sustainably.  He is actively involved in advancing global sustainability practices, with a significant focus on water stewardship. Ecolab helps companies in a wide range of industries worldwide meet their own sustainability goals. The company's 26,500-strong field team helps customers operate more efficiently, using less water and energy, at nearly three million customer locations in more than 170 countries.  
"I am delighted to join the board of an organization whose chief purpose is to strengthen sustainable development globally through its member companies and partnerships with governments, non-governmental organizations, universities and other stakeholders," said Tenuta.
Commenting on the appointment, Francisco Suarez Hernandez, chair of WEC's board of directors and director of Coca-Cola FEMSA's New Business Initiatives said, "The World Environment Center is delighted to have Emilio join our board. His deep knowledge of sustainability and water stewardship will help the World Environment Center prepare businesses to be future-proof."
Tenuta is actively involved in advancing sustainability practices. He sits on the sustainability leadership council for Corporate Eco Forum and is chair of the sustainability council of the Conference Executive Board.  He also is an active member of several industry organizations, including serving on the sustainability work group for the American Hotel & Lodging Association.
Tenuta holds a bachelor of science degree in Chemistry from the University of Wisconsin-Eau Claire and a master's degree in Business from the Kellogg School of Management at Northwestern University.
###
About World Environment Center 
WEC is an independent, global non-profit, non-advocacy organization that advances sustainable development through the business practices and operations of its member companies and in partnership with governments, multilateral organizations, non-governmental organizations, universities and other stakeholders.