Do Work You're Proud Of: Dan Schulman's "Never Stand Still" Conversation with CNBC Host Jim Cramer
Do Work You're Proud Of: Dan Schulman's "Never Stand Still" Conversation with CNBC Host Jim Cramer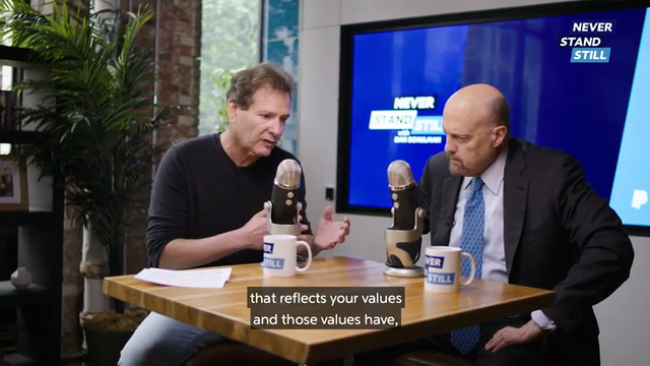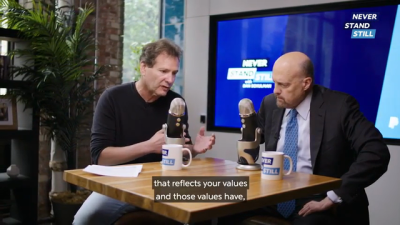 tweet me:
Creativity and business can (and should) work together: @PayPal's Dan Schulman talks with CNBC host @JimCramer about doing work you're proud of: http://bit.ly/2OfVhMW
Wednesday, July 24, 2019 - 12:00pm
Many of you likely know Jim Cramer as the host of CNBC's "Mad Money," through his best-selling books, or as Co-Founder of The Street. But Jim has had such a fascinating journey to get to this place in his career.
Jim was born in a Philadelphia suburb, and his parents instilled a strong work ethic in him from a very early age. He sold ice cream at Veterans Stadium for Phillies games, applied himself, and was accepted into Harvard where he served as Editor-in-Chief of The Harvard Crimson. While living in Los Angeles after college, Jim's apartment was broken into and he ended up living in his car. It was around this time that he became interested in the stock market and investing money. And even before he officially broke into finance and became a hedge fund manager at Goldman Sachs, he'd record stock tips on his answering machine message.
I love Jim's story because it exemplifies my #NeverStandStill mantra—to keep moving after getting hit, to keep trying new things, and to live life with an entrepreneurial spirit. I enjoyed turning the tables on one of television's most spirited hosts and wanted to share my key takeaways from our conversation:
Creativity and business can (and should) work together.
Growing up, Jim's father was a small business owner and his mother was an artist. This led him to perceive a tension between choosing between business and creativity on his career path. He said, "I felt you either made a choice to be creative and poor or to work really hard and have no soul." In our discussion, we shared our gratitude that this dichotomy is no longer as present in today's business world. At PayPal, we believe that being creative and innovative in every corner of our company leads to the best products and services for our customers. And I believe it's this ability to bring both business smarts and artistry into our work that allows employees to love what they do.
Do work that you're proud of. And, most importantly, do work that empowers people.
Jim shared a moment of self-reflection and described a conversation he'd had with his cousin, whose career had been devoted to service work. At the time, Jim was a hedge fund manager and proud that he'd brought in the biggest account in the history of his firm. But his cousin helped him realize that he could have a career based on a larger purpose. Nowadays, Jim and I both agree that having a sense of mission and empowerment is essential to the best businesses. Even when he's recommending stocks, Jim says, "[Companies are] going to be successful because their ethos is to empower people. As soon as I hear that someone's trying to empower people, I have a winner." The best part is that when companies do this the right way, they're not pursuing purpose in the interest of profit—they understand that each complements the other in a really powerful way.
Perseverance, integrity, and honesty will get you where you want to go.
All of us have had moments in business or in life where we've had to stay true to ourselves, even when the decision was hard. Jim told me that when he recently gave a talk at Harvard, he told the students, "The toughest thing that is going to happen to you is that you're going to go to a place and your boss is going to ask you to lie, going to ask you to cut a corner, going to do something that's fraudulent, and you have to say, 'I'm not doing that.'… Persevere, have integrity, have honesty and you will get to where you want to go. If you deviate from those, you will not get there." This advice is simple in theory, but often difficult in practice. The most admirable people I know in business are masters at this—and doing what is right has always yielded better results than doing what was easy.
More From PayPal
Friday, May 7, 2021 - 8:00am
Tuesday, April 27, 2021 - 1:05pm
Tuesday, April 13, 2021 - 3:00pm