Congrats to the 2020 Corporate Goodness Award Winners!
Congrats to the 2020 Corporate Goodness Award Winners!
"The Goodies" Celebrate Progressive Companies Innovating Through Modern Approaches to Corporate Purpose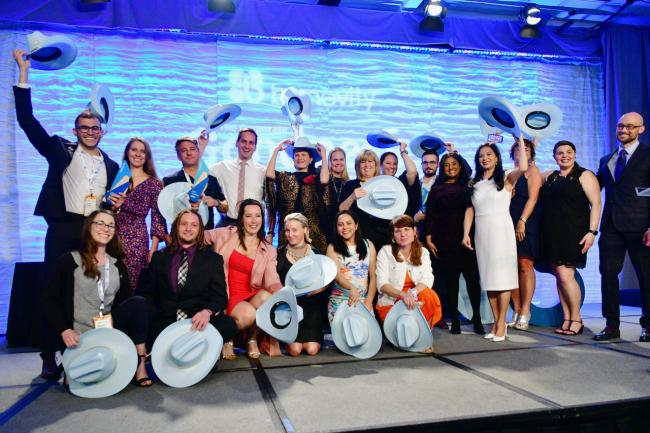 tweet me:
Congrats to the @benevity #2020Goodies Award Winners: @LeviStraussCo, @Adobe, @Albertsons, @Splunk, @intel, @TELUS, @Arm and Tricia Stevens of @lushcosmetics!! http://bit.ly/2Tl8JQm
Wednesday, March 4, 2020 - 7:00pm
Benevity's 2020 Corporate Goodness Awards, also known as "The Goodies", celebrate the bold, innovative, inclusive and creative ways that companies are making a difference in the world — and how they inspire other people through purpose. 
Some of last year's Goodies Award winners, including Micron Technology, TC Energy, Accenture Canada, PlayStation and Illumina, passed the torch to the 2020 winners at the annual Goodness Matters conference in Palm Springs. And with more nominations than ever before, there was an impressive array of entrants across industries and geographies — all demonstrating the impact that companies, their employees, customers and communities can have when they work to harness the power of Goodness through their corporate purpose programs.
Congratulations the 2020 Goodies Award winners:
Levi Strauss & Co. / The Bestie Award
Adobe / The People Power Award
Albertsons Companies/Albertsons Companies Foundation / The Community Hero Award 
Splunk / The Moonshot Award 
Intel / The BeCause Award 
TELUS / The Buzz Award 
Arm / The NewB Award 
Tricia Stevens from Lush / The BUFFY Award
LEARN MORE ABOUT THE 2020 GOODIES AWARD WINNERS AND WATCH THEIR INSPIRING VIDEOS ON OUR BLOG.
More From Benevity
Tuesday, February 23, 2021 - 7:55am
Thursday, February 18, 2021 - 3:40pm
Tuesday, February 16, 2021 - 9:00am