Cerro Negro Local Entrepreneurs Contest
Primary tabs
Cerro Negro Local Entrepreneurs Contest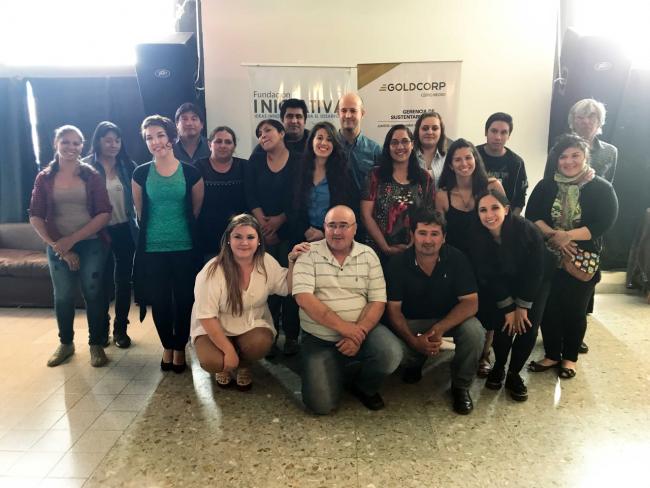 tweet me:
Goldcorp's Cerro Negro mine in Perito Moreno, Argentina, recently helped develop a "Local Entrepreneurs Contest" together with local organizations. Check out the winners: http://bit.ly/2Ee0XwU
Tuesday, April 3, 2018 - 10:00am
In late 2017, Goldcorp's Cerro Negro mine in Perito Moreno, Argentina, helped develop a "Local Entrepreneurs Contest" together with Fundación Iniciativa and the city hall.
A workshop on business ventures launched the contest and provided the participants with the opportunity to acquire tools to further develop their new ventures. They were offered training and financing.
The month-long contest received a total of twenty-three applications, from which eight winners were selected. The assessment criteria included innovation of the products or services offered, management experience, sustainability considerations in areas such as social and environmental impact, safety, and return on investment potential.
The judging panel included Luisina Gala Golosetti (Coordinator from Fundación Iniciativa), Mathieu Vallart (Goldcorp Cerro Negro Sustainability Manager) and Pablo Bustos (Perito Moreno City Hall Officer)
Here is the list of the eight winners:
First Prize – Puntadas Peritenses
Puntadas Peritenses is focused on providing professional clothing for both local mining projects and the city. Their manufacturing workshop was officially opened in August 2017, and they will use the prize money to purchase more machinery and increase their efficiency. Their goal is to reduce costs and to keep the same level of quality currently offered so that clothes are affordable for more people. The business was created by six women with sewing experience.
Second Prize - Bloquera San Jose
The growing population of Perito Moreno requires the construction of new houses every day. Bloquera San Jose is devoted to the manufacture of concrete blocks.
Third Prize - Vivero Tierra Del Sur
Vivero Tierra del Sur provides seasonal and green vegetables throughout the year to local hotels and restaurants.
Fourth Prize - Criadero De Cerdos
Criadero de Cerdos breeds pigs to supply quality meat to local butchers throughout the year.
Fifth Prize - Cerveceria Artesanal
Cerveceria Artesanal's aim is to make Perito Moreno a tourist attraction by providing a variety of unique beer brews with a Patagonic influence.
Sixth Prize - Incubadora De Pollitos:
Incubadora de Pollitos is focused on providing a source of affordable chicken meat to the local community.
Seventh Prize - Box De Enfermeria
Box de Enfermeria's goal is to support the local community by providing healthcare services to people who cannot travel to hospitals. They provide services such as immunizations, checkups, and blood pressure monitoring.
Eighth Prize - Gastronomia Artesanal
Gastonomia Artesanal supplies food to craftsmen and many of the residents. The prize money will go towards a new restaurant, which will offer a new gastronomic experience not currently offered in the area.
"We are very glad to see this high interest, motivation and commitment from the people of Perito Moreno and their commitment to driving local economic development," Mathieu Vallart, Goldcorp Cerro Negro Sustainability Manager. "Congratulations to all the winners."
More From Goldcorp
Friday, April 5, 2019 - 6:45am
Thursday, April 4, 2019 - 6:30am
Wednesday, April 3, 2019 - 6:00am