Building Authentic Partnerships with Local Communities
Building Authentic Partnerships with Local Communities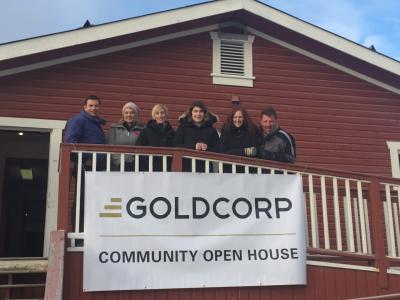 tweet me:
"Building Successful Corporate/Indigenous Partnerships" is the new guide released by @IndigenousWorks that helps both Indigenous and non-Indigenous leaders to begin engaging and review 'partnership readiness.' Learn more about Goldcorp's involvement. http://bit.ly/2uGujoa
Monday, April 2, 2018 - 3:00pm
Building strong community relationships is key to Goldcorp's vision of creating sustainable, enduring value for communities: value that lasts beyond the operating life of our mines.
Roger Souckey, Director of Sustainability & HR at Goldcorp's Coffee project, located approximately 130 kilometres south of Dawson City, Yukon, and the entire Coffee team, have been strengthening connections with local First Nation and community groups since the project was acquired in 2016. "We're committed to establishing meaningful partnerships with governments, organizations and individuals, and supporting community development activities – all of which we hope will make a lasting, positive impact and bring Goldcorp's vision for our Coffee project to life."
Working with external organizations to develop local relationships brings additional benefits and perspectives. Goldcorp is a Leadership Circle member of Indigenous Works, a national non-profit organization which helps to build prosperous partnerships between corporations and First Nations, Métis and Inuit communities. The organisation provides advisory services and tools to facilitate partnership-building, such as the recently released a video and guide entitled, "Building Successful Corporate/Indigenous Partnerships".
Created in response to an extensive study which found 85 per cent of Canadian businesses are not engaged with Indigenous communities with few or no engagement and partnership strategies, the video and guide provides a seven-stage model for learning and building partnership competencies. It also features insights from many Indigenous and corporate leaders into ways that corporate and Indigenous groups can effectively partner with one another for the purpose of creating new employment, business and community economic development.
Indigenous Works will also be hosting Inclusion Works '18 in Kelowna BC, April 17 - 18, where Brent Bergeron, Goldcorp's EVP Corporate Affairs and Sustainability, will be a faculty presenter.  Delegates will put the guide into action as they learn how to benchmark their partnership score and develop their skills and competencies from the lessons learned from practitioners from across Canada.
"The partnership video and guide is a great stepping stone for both Indigenous and non-Indigenous leaders to begin the engagement process and to systematically review their 'partnership readiness'," said Brent. "We've taken what we've learned in our engagements with the 22 First Nations across Canada with whom we have existing collaborative partnerships, and, amongst others, worked with Indigenous Works to help establish the framework which will assist more companies in their partnership-building activities.
"We are currently working to advance our diversity and inclusion strategies at Goldcorp to continue to be viewed as a company or employer-of-choice to our neighbours and to the Indigenous community," adds Roger. "We also acknowledge that one of the recommendations of the truth and reconciliation commission was to pursue greater engagement by First Nations in Canada's economy.  This framework helps provide a roadmap for how to do just that, and by working alongside organisations whose mandate is to improve the inclusion and engagement of Indigenous people in the Canadian economy, we can develop open, trusting and authentic relationships with stakeholders and local communities."
More From
Friday, April 5, 2019 - 6:45am
Thursday, April 4, 2019 - 6:30am
Wednesday, April 3, 2019 - 6:00am