Back From the Ashes
Back From the Ashes
Stepping up to the challenge, Madagascar's youth are restoring forests after years of degradation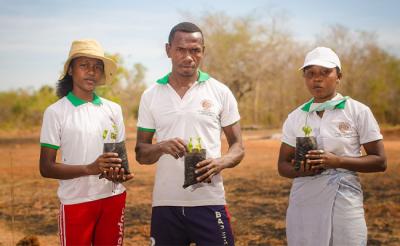 tweet me:
.@TetraTech's A.G. Klei and Mialy Randriamampianina discuss how Madagascar's youth are stepping up to the challenge to restore #forests after years of degradation: https://bit.ly/32y2nBh #LeadingWithScience
Wednesday, November 11, 2020 - 8:00am
This piece was written by A.G. Klei, U.S. Agency for International Development (USAID) Mission in Madagascar's Senior Development and Outreach Communications Advisor, and Mialy Randriamampianina, Communications Officer for the USAID Mikajy environmental activity in Madagascar.
Just a single, sandy road knits together three ecological treasures along the west coast of Madagascar.
Take the road north from the mangrove-fringed coastal city of Morondava and you'll discover the towering Avenue of the Baobabs. Head farther north, and you'll find the fortress of limestone spires and deep gorges of the Tsingy de Bemaraha National Park. Nestled in between are the dry forests of Menabe-Antimena, home to many lemur species, Malagasy giant jumping rats, and fossa, Madagascar's largest predator.
But like a devastating feat of magic, the dry forests of Menabe-Antimena are disappearing―scythed by the sharp blades of axes and farmers' hoes, vanished in a puff of ash by deliberate forest fires, and replaced by the rustling leaves of corn and peanut crops.
Despite the granting of official protected status in 2007, a creeping deforestation in the early 2000s has turned cataclysmic in the past few years as migrants―driven by environmental degradation, poverty, and drought in the south of Madagascar―move into the area. This influx of people increased demands on the land as some new arrivals turned to informal farming to feed themselves and others were hired and exploited as cheap labor to illegally clear and burn large swaths of forest for corporate agriculture.
Today, almost half of Menabe's original dry forests have been destroyed.
But the tides may be turning in the forests' favor, thanks to the efforts of a coalition of activists. The situation has drawn the attention of international organizations, including a USAID environmental project called Mikajy, which is funding hands-on conservation activities, such as forest patrols, fire fighting, and reforestation, as well as promoting community engagement and governance of natural resources. The World Wildlife Fund, KEW Madagascar, and Durrell are also hard at work in the region. Local NGOs like Voahary and Fanamby have taken charge of promoting conservation in the protected area. And all groups are actively working with the regional government and the national environment ministry on this challenge.
Perhaps the most unlikely members of this coalition are local youth, who in 2018 founded an association called Fo Sarotiny amin'ny Ala, or FOSA, in honor of the dry forest predator. The name means, "We Treasure our Forests."
Gladys, 19, has been a member of FOSA since the beginning. She was part of a group of young high school graduates invited to participate in a training workshop on biodiversity conservation and youth empowerment, organized by Fanamby. The experience opened her eyes to the extinction-level threats the forests were facing―and also to her ability to do something about it.
FOSA formed chapters in each of Menabe-Antimena's 12 districts. Since the early days, their ranks have swelled to more than 100 youth volunteers between 16 and 32 years old. Their primary focus is on reforestation, due to the positive effects on biodiversity conservation, and ecotourism, which is a major contributor to the regional economy.
The USAID Mikajy project provides training to FOSA members, as well as other community participants, on how to manage the tree nurseries, monitor seedlings for healthy growth, perform reforestation, and care for the newly planted trees.
Gladys says FOSA members recognize the forests are critical for the wellbeing of their communities and they are committed to the conservation of these forests for future generations.
"The only way to achieve this," said Gladys, "is through community empowerment, making people aware of the importance of biodiversity, intensive restoration, and the establishment of firebreaks."
For two years, the youth volunteers of FOSA have been collecting seeds from native plants and establishing forest nurseries. This March, the association mobilized to reforest and restore 25 hectares of the protected area. More than 24,000 seedlings growing in the group's community nurseries will be part of the next wave of reforestation.
The future of the Menabe-Antimena dry forests is still uncertain, but there are reasons for optimism.
Earlier this year, the Government of Madagascar launched a campaign to plant 60 million trees to mark the country's 60 years of independence, and has made reforestation a national priority. The coalition of partners is active and engaged. And perhaps most of all, local youth are leading efforts for change through education, activism, and action.
Alfred, 22, a FOSA Vice President, says the group is dedicated to the conservation of the forest.
"If we do not take responsibility now, these precious gems of our region will disappear forever," he said.
More From Tetra Tech
Monday, January 18, 2021 - 8:00am
Wednesday, January 13, 2021 - 8:00am
Friday, January 8, 2021 - 8:00am