Bacardi Honored with DRiNK Magazine's First-Ever Sustainability Award
Bacardi Honored with DRiNK Magazine's First-Ever Sustainability Award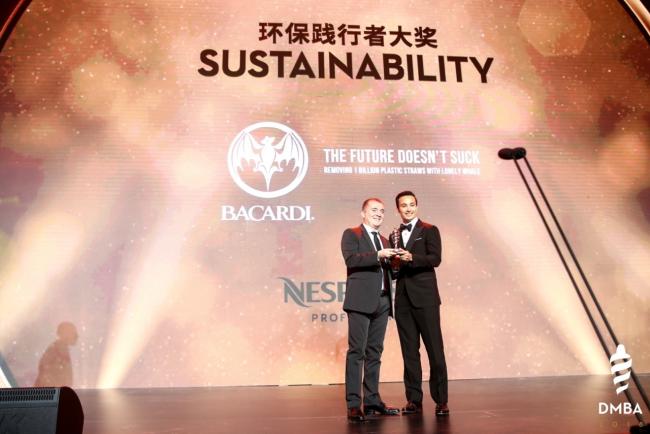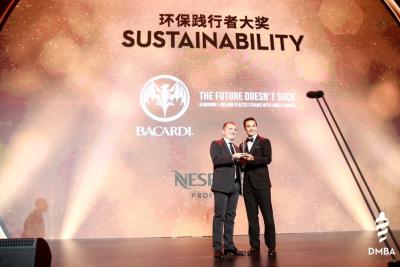 tweet me:
.@BacardiLimited wins first-ever #Sustainability Award at #DMBA2018 for its #TheFutureDoesntSuck campaign with @LonelyWhale http://bit.ly/2DWHQeU #Bacardi
Tuesday, November 27, 2018 - 1:15pm
Bacardi sustainability efforts continue to draw attention, this time in China. DRiNK Magazine, Asia's leading bar industry website, awarded the campaign the first ever Sustainability Award presented at The DRiNK Magazine Bar Awards (DMBA). A panel of 160 judges selected Bacardi as a leader in adopting a sustainable culture as part of day-to-day operations. Earlier this year, Bacardi launched its global movement, in collaboration with Lonely Whale, to eliminate single-use plastic straws in Shanghai with a media event co-hosted with Cachet Hospitably Group. The global campaign asks bars, restaurants and consumers to join a pledge to ensure The Future Doesn't Suck with the goal to eliminate one billion plastic straws by 2020. The award was by accepted by Adam Devermann, Bacardi Associate Advocacy Director – Greater China, during the DMBA ceremony in Shanghai on November 19, 2018.
Join the pledge to eliminate single-use plastic straws:
English: www.thefuturedoesntsuck.org
Chinese: https://www.thefuturedoesntsuck.org/cn/zh/
More From Bacardi Limited
Thursday, May 28, 2020 - 1:20pm
Wednesday, May 20, 2020 - 11:05am
Monday, May 4, 2020 - 11:00am