Award-winning News for Domtar's 2017 Sustainability Report
Award-winning News for Domtar's 2017 Sustainability Report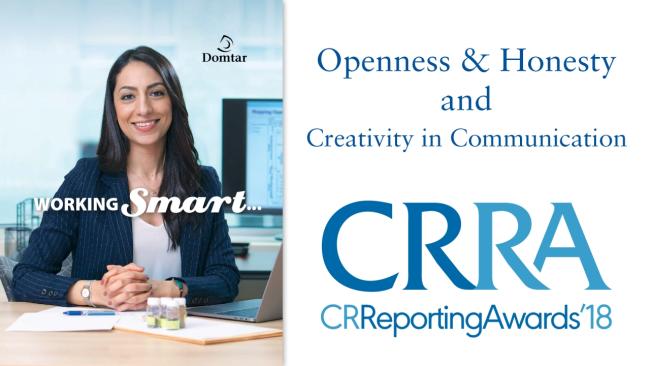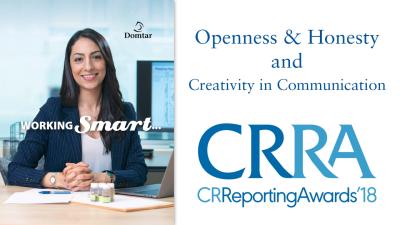 tweet me:
.@DomtarEverday's 2017 #Sustainability Report has won 2 categories of Corporate Register Reporting Awards 2018 http://bit.ly/2KqkOwh #corporateresponsibility #transparency
Tuesday, May 15, 2018 - 8:55am
FORT MILL, S.C., May 15, 2018 /3BL Media/ -- Award-winning news for Domtar, a leading global provider of pulp, paper and personal care products. The company is pleased to announce its 2017 Sustainability Report, "Working Smart for the Long Term," has been named the winner in two categories of the Corporate Register Reporting Awards 2018  program (CRAA'18).  More than 121 entries submitted by 61 organizations across 6 continents were judged and Domtar won in the categories of Creativity in Communication and Openness & Honesty.
About Creativity in Communication
For the CRRA'18 Creativity in Communication category, voters were asked to choose the report that was a real pleasure to read, while at the same time getting its message across using creativity as a defining factor.
About Openness & Honesty
It is easy to highlight the good news and ignore the bad. But for the CRRA'18 Openness & Honesty category, voters were asked to choose the report in which the company comes 'clean', telling both the good and the bad news in a manner that convinces the reader a balanced picture is being presented.
The CR Reporting Awards program is unique in its voting process, criteria and goals:
The 60,000+ eligible voters, based on 6 continents, are composed of a wide range of organizations including corporations, government agencies and authorities, NGO's, academia, Corporate Social Responsibility (CSR) professionals, investors and analysts. They represent all major manufacturing, supply and service industries, including several of Domtar's direct competitors. The CRAA'18 program covered 8 categories of competition and while CR's criterion focused on Content, Communications and Credibility, voters' comments revealed their independent judgment and innovative thinking went beyond those elements when choosing the winning reports. CR's goal is to identify and acknowledge the most meaningful and effective reports through its awards program and thereby promote a direction in best practice reporting for both the public and private sector to share.
About Corporate Register Global CR resources
CorporateRegister.com was founded in 1998 as a website dedicated to providing global CR resources. As of May, 2018, over 60,000 registered users benefit from free access to more than 90,000 CR reports, updates, upcoming events, reviews, related news items and a comprehensive directory of CR reporting service providers. It offers an array of services to CR reporters and the organizations which assist in CR report development. CR creates awareness of new CR reports, facilitates online stakeholder dialogue and connects service providers with CR report developers. CR values its independence and impartiality and exists as a link between CR reporters and CR stakeholders. Its mission is to continue to provide high quality CR-related information to an informed global audience.
Since 2007, CR has held its annual global reporting awards competition.  For the 2017 award program, all 60,000+ registered users were eligible to vote on the 121 entries submitted by 61 organizations across 8 categories.
About Domtar
Domtar is a leading provider of a wide variety of fiber-based products including communication, specialty and packaging papers, market pulp and absorbent hygiene products. With approximately 10,000 employees serving more than 50 countries around the world, Domtar is driven by a commitment to turn sustainable wood fiber into useful products that people rely on every day. Domtar's annual sales are approximately $5.1 billion and its common stock is traded on the New York and Toronto Stock Exchanges. Domtar's principal executive offices are in Montreal, Canada and Fort Mill, South Carolina. To learn more, visit www.domtar.com.
More From Domtar
Monday, February 10, 2020 - 11:40am
Wednesday, January 22, 2020 - 11:05am
Tuesday, January 14, 2020 - 10:10am