Amplifying Your Pro Bono Story
Amplifying Your Pro Bono Story
A step-by-step approach to developing an effective storytelling strategy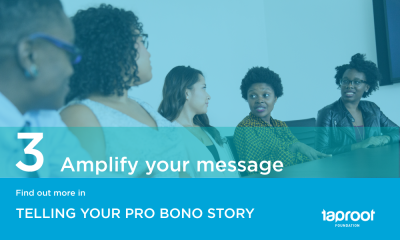 tweet me:
How can you amplify your company's #probono story? Choose the right storyteller. Discover how in @TaprootFound's latest resource, Telling Your Pro Bono Story http://bit.ly/315JjHX
Friday, October 11, 2019 - 2:55pm
For corporate pro bono practitioners, telling stories is critical. By communicating the impact of your pro bono programming effectively, you'll promote your company's social good initiatives both internally and externally. Those efforts can help elevate your company's brand and position in the field—that's the power of a good story.
We at Taproot Foundation have picked up tips and tricks for impactful pro bono storytelling over the years. With some help from our friends at Edelman, VMware, and Morgan Stanley, we're sharing insights we've gleaned from our experience with both pro bono programming and strategic communications. Our goal is simple—to equip practitioners with the skills they need to tell powerful stories that move the field forward.
Choose Your Storyteller
Who tells your story is just as important as the story itself. To achieve your goal with the intended audience, find a trusted voice that resonates with them. Those voices could include experts in your field, CEOs, or peers of your audience members. Other potential spokespeople might be the nonprofit organizations you've served, employees who have participated in your pro bono programs, managers of your programs, and even Taproot.
Read more in Telling Your Pro Bono Story.       
More From Taproot Foundation
Thursday, May 28, 2020 - 9:00am
Monday, May 18, 2020 - 1:15pm
Friday, May 15, 2020 - 1:15pm