Amplifying Your Corporate Community Investment Program
Amplifying Your Corporate Community Investment Program
How the right grants software can boost your corporate, social and employer brand with no additional budget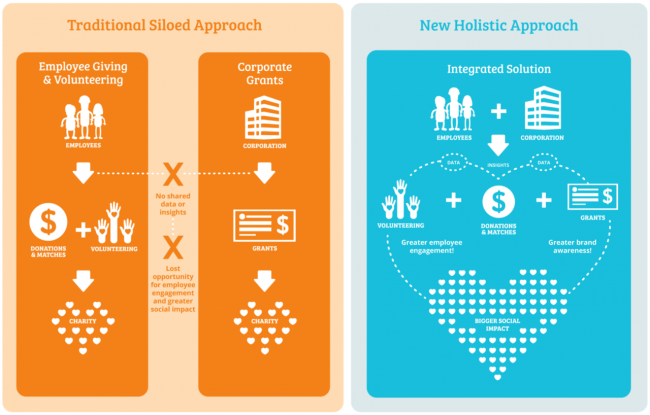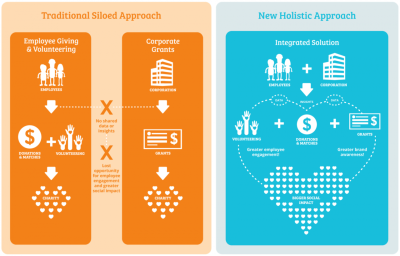 tweet me:
Take everything you thought you knew about corporate grants and flip it upside down! Companies choose the cause (X). It happens once/year (X). Community impact is an untold tale (X). There's a better way: http://bit.ly/2BPnNuO
Thursday, December 7, 2017 - 9:15am
While workplace giving, matching and volunteering programs are becoming bigger pieces of the CSR picture, large grants allow charities to implement programs and projects that are mission critical to advance their causes. However, as the landscape of community investment changes, so too does the opportunity to increase both the social and business ROI of grants.
The opportunity lies within the ability to bring the traditional components of community investment programs together for greater impact. What we don't want: employees unaware of their employer's community efforts, disenfranchised by an "arm-twisting" annual campaign, or participating without feeling engaged.
Benevity has been working with Fortune 1000 companies to help them achieve better business and social outcomes by aligning their community investment and employee engagement strategies. Thus harnessing the power of these programs when they are brought together on a single technology platform--the results are impressive.
TAKE A DEEPER, HOLISTIC LOOK AT HOW TO AMPLIFY YOUR COMMUNITY INVESTMENT PROGRAM.
More From Benevity
Tuesday, April 20, 2021 - 9:00am
Tuesday, March 23, 2021 - 8:25am
Wednesday, March 10, 2021 - 8:15am