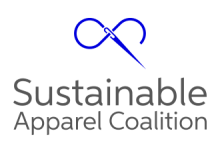 Sustainable Apparel Coalition
The Sustainable Apparel Coalition (SAC) is an independent and impact-creating organization that aims to lead the industry toward a shared vision of sustainability based upon a joint approach for measuring, evaluating, and improving performance.
As a non-profit organization, it has members from across the apparel, footwear and textile sector, but exists independently outside any one company so that it can drive progress. The SAC's collective action efforts bring more than 280 global brands, retailers, manufacturers, NGOs, academics and industry associations together. They represent about half of the apparel and footwear industry along the whole supply chain – from sustainability pioneers to organizations just getting started.
Before the SAC existed, companies worked in a siloed way, using their own programs and measurements that lacked standardization and an ability to drive collective action. In 2009, Walmart and Patagonia identified this as a serious problem. Joining forces, they brought together peers and competitors from across the sector, to develop a universal approach to measuring sustainability performance and founded The Sustainable Apparel Coalition.