Inside Out: A Transformative Approach to Community Investment
Inside Out: A Transformative Approach to Community Investment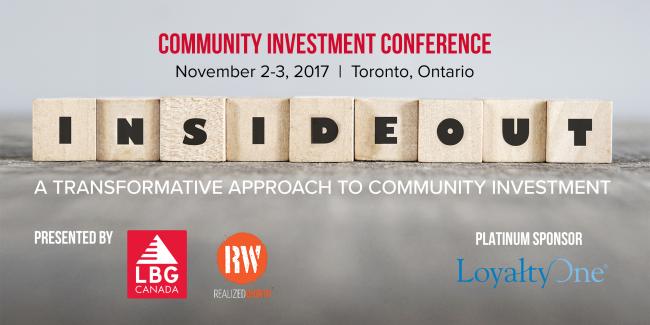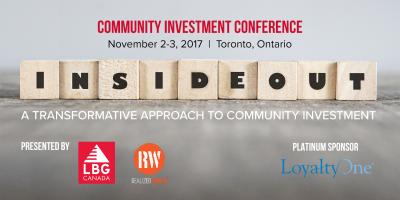 tweet me:
#LBGCanada & @RealizedWorth announce Inside Out: A Transformative Approach to Community Investment http://bit.ly/2uDcrKa
Wednesday, September 6, 2017 - 4:20pm
TORONTO, September 6, 2017 /3BL Media/ - Companies will gather November 2-3, 2017 to explore how the practice of community investment can address important business priorities such as diversity, inclusion, employee wellness & engagement. This two-day event will be focused on how the practice of community investment can transform organizational culture, employee experience and contribute to more sustainable, long term change in community.
Co-presented by the LBG Canada network of companies and international employee engagement consultancy Realized Worth, the Inside Out: A Transformative Approach to Community Investment conference will offer a significant advancement to what is currently understood to be best practice in community investment program design.
The ideas within A Transformative Approach offer a new and effective model for companies, communities and employees seeking to achieve growth, scale, and impact in community investment efforts.  
"LBG Canada is a network of professionals actively seeking to impact community in sustainable ways", says Stephanie Robertson, CEO of SiMPACT Strategy Group and Facilitator, LBG Canada.  "Inside Out will showcase practical, tangible insights into how to grow and deepen community investment program impact, transforming organizational culture and employee experience at the same time." 
"We've only begun to explore the true potential of community investment efforts such as employee volunteering and giving" says Chris Jarvis, co-Founder, Realized Worth. "Recent discoveries in neuroscience research as well as guidance from the fields of social and behavioral science provide a far more informed approach to community investment: A Transformative Approach. This advanced model allows companies to effectively address business priorities across the company through community investment." 
To register for Inside Out: A Transformative Approach to Community Investment, visit: http://bit.ly/2fMSsSN, or call (416) 642-5461.
For more information, please visit: https://www.lbg-canada.ca/news/conference/
About LBG Canada
LBG Canada is a network of corporate community investment professionals from many of Canada's leading companies, who work together to apply, develop and enhance the use of the LBG Model and impact measurement framework in Canada.
Involvement in LBG Canada enables companies to maximize their contributions to communities through access to data and tools to maximize impact. LBG Canada involvement enhances reporting externally to the Dow Jones Sustainability Index, GRI and the Imagine Canada 1% standard, and increases company ability to report on impact. For more information, visit: www.lbg-canada.ca
About Realized Worth
Realized Worth is a global consulting firm founded in 2008 by Chris Jarvis and Angela Parker.The company is among a small industry of CSR consultancies, with a niche focus on engaging employees in corporate volunteering and giving programs, which includes designing and fully implementing program strategies. Fundamentally, our goal is to equip companies to develop their employees into leaders – leaders whose decision-making is influenced by their exposure to social issues and societal needs. For more information, visit: www.realizedworth.com.
More From SiMPACT Strategy Group
Thursday, January 14, 2021 - 12:15pm
Thursday, December 17, 2020 - 2:40pm
Monday, September 14, 2020 - 7:00pm
Videos from SiMPACT Strategy Group