World Environment Center Elects Two New Board Members
World Environment Center Elects Two New Board Members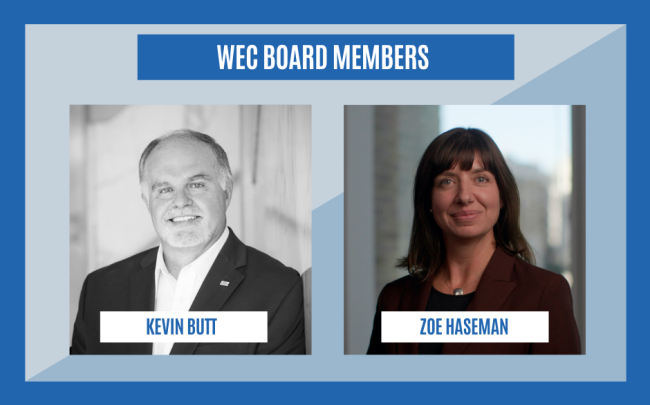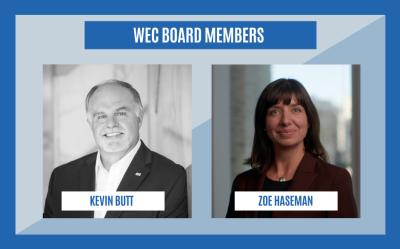 Thursday, October 28, 2021 - 1:45pm
In continuation of the commitment to expand and advance our effectiveness as a global sustainability organization, the World Environment Center has elected two new members to the WEC Board of Directors – Kevin Butt, Director, Environmental Sustainability at Toyota North America and Zoe Haseman, Vice President, Global Sustainability at Jacobs.
Kevin Butt serves as Director, Environmental Sustainability at Toyota North America. He is responsible for the development of Environmental Sustainability Programs and related Regulatory/Legislative development for all of Toyota's North American operations.
Prior to Butt's current assignment, he was the general manager/chief environmental and safety officer for Toyota Motor Engineering & Manufacturing for all of Toyota's Manufacturing operations. Prior to that assignment, Butt served as the assistant general manager of Body Production Engineering for Toyota Motor Manufacturing North America, Inc., (TMMNA).  He was responsible for Body Engineering for all Toyota's North American manufacturing operations.  Body Engineering consists of Welding, Stamping, and Painting Operations. He has a Bachelors of Science degree in Environmental Science from Georgetown College.
Zoe Haseman serves as Vice President, Global Sustainability at Jacobs where she is responsible for developing and implementing Jacobs' global sustainability strategy.
With more than 19 years of international experience in sustainability efforts, working across both public, private and start-up sectors, she knows a thing or two about what works – and what needs to change, both today and into tomorrow as we look toward a more sustainable future. Zoe's previous roles include serving as the sustainability technical lead on major infrastructure and transportation programs, including Crossrail, Blackfriars Station Upgrade and Seattle-Tacoma's International Airport Sustainable Master Plan. Zoe earned a Bachelor of Science, with honors, in environmental science from Manchester University. She's also completed the "Leading Innovative Change" course at UC Berkeley Executive College.
The World Environment Center is excited for the expertise and global experience that both Kevin and Zoe will bring as WEC Board Members, that will help WEC become even more effective in our mission.  
View all WEC Board Members HERE.
About the World Environment Center
The World Environment Center, headquartered in Washington, D.C., with offices and operations in emerging and developed markets, is unique in its direct application of sustainable development strategies and practices to the business operations of global companies. WEC creates sustainable business solutions through individual projects in emerging markets; convenes leadership roundtables to shape strategic thinking across a range of sustainability topics with a specific focus on the preparation of business leaders to implement sustainability; and honors industry excellence through its annual Gold Medal Award. An independent non-profit organization, WEC conducts no advocacy activities. For more information, please visit www.wec.org.