World Environment Center Elects 2022 Board Officers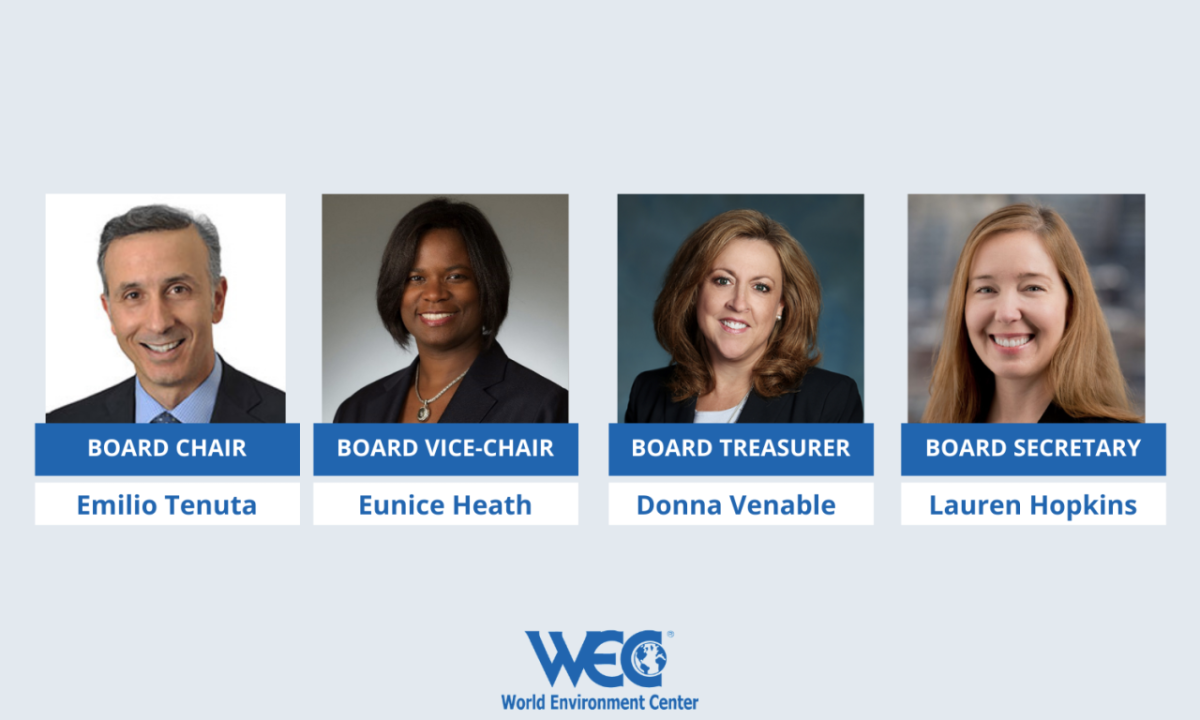 February 22, 2022 /3BL Media/ - The World Environment Center (WEC) Board of Directors has elected new Officers to lead the organization in 2022. The Board thanks its outgoing Chair, Scott Tew, VP Sustainability and Managing Director CEES, Trane Technologies, for his many years of dedicated service to WEC as Chair, Vice Chair, and Board Member.
WEC's Officers for 2022 are:
- Chair: Emilio Tenuta, Senior Vice President & Chief Sustainability Officer – Ecolab, Inc.
- Vice-Chair: Eunice Heath, Corporate Director of Sustainability – Dow
- Treasurer: Donna Venable, Executive Vice President, Human Resources and Deputy General Manager, Shared Services – Ricoh USA, Inc.
- Secretary: Lauren Hopkins, Principal – Beveridge & Diamond PC
Emilio Tenuta served previously as Vice-Chair. Eunice Heath served previously as a Board Member. Donna Venable and Lauren Hopkins are returning for a second term in their respective roles.
They join current WEC Board Members: Kevin Butt, Director, Environmental Sustainability, Toyota North America; Cristina Gil White, Chief Sustainability Officer, Suzano; Zoe Haseman, Vice President, Global Sustainability, Jacobs; Kris Morico, Vice President, EHS & Sustainability, Baxter; Lars Murawski, Vice President, EHS & Sustainability, Boehringer Ingelheim; Glenn Prickett, President & CEO, WEC; Exequiel Rolan Michel, Sustainability & Community Relations Manager, Fresnillo plc.; Isabel Studer, Director, Allianza University of California-Mexico; Sheryl Telford, Chief Sustainability Officer, The Chemours Company; and Karen Westley, Vice President for Carbon, Environment & Downstream Safety, Environment & Asset Management, Shell.
"We are fortunate to have such accomplished global leaders in sustainability as the officers of the World Environment Center. I am thrilled with the experience, guidance, and oversight that they bring to our work," said Glenn Prickett, WEC President & CEO.
About the World Environment Center
The World Environment Center advances sustainable development through corporate business practices. Headquartered in Washington, D.C. with offices in Europe and Latin America, WEC creates business solutions through executive roundtables on key sustainability challenges, builds capacity of small enterprises in emerging markets; and honors industry excellence through its annual Gold Medal Award. WEC is an independent, non-profit, non-governmental organization. For more information, please visit www.wec.org.