A Workplace Where Everyone Can Thrive: Booz Allen Celebrates 100% Score on Disability Equality Index for Sixth Year in a Row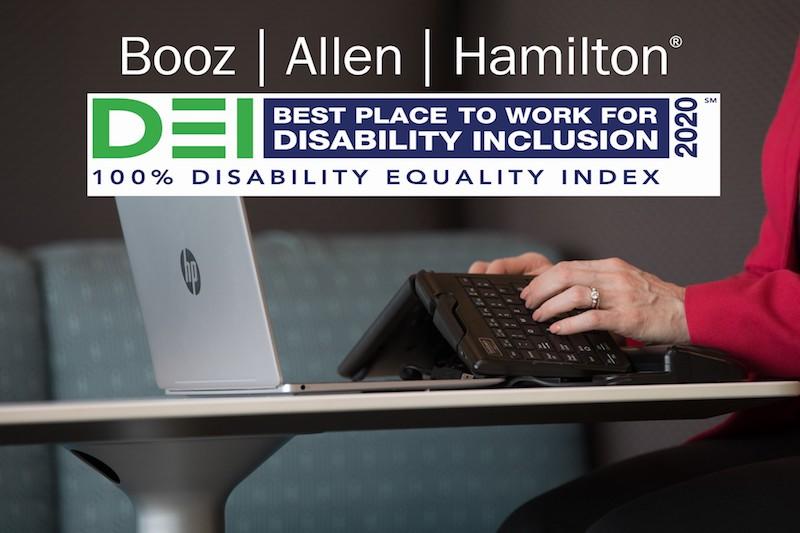 Disability is a natural part of the human experience that crosses lines of age, ethnicity, gender, gender identity, race, sexual orientation, socioeconomic status, and religion.  Globally, people with disabilities represent over one billion people. 
From employee forums and workshops dedicated to disability inclusion, and award-winning work with service-disabled, veteran-owned businesses, Booz Allen® is committed to being an employer and partner of choice for people with disabilities.  In recognition of these efforts, the firm – for the sixth year in a row – has received a 100% score on the Disability Equality Index (DEI®).
A nationwide benchmarking tool by Disability:IN and the American Association for People with Disabilities (AAPD), the DEI measures key performance indicators including culture and leadership, enterprise-wide access, employment practices like education and benefits, community engagement, and supplier diversity.
Building a workplace where everyone can thrive
"Booz Allen is honored to receive this recognition for the sixth year in a row – which is reflective of how far we've come and the strides we've made – but that doesn't mean the work is done," said Brian MacCarthy, executive sponsor of Booz Allen's Global Disabilities Resource Group (BRG).  "We remain focused, more than ever, on our ultimate goal: a safer and more accessible workplace where people with disabilities, visible or non-visible, can thrive."
Booz Allen supports disability inclusion through initiatives like:
Employee groups like the Global Disabilities BRG that provide opportunities for leadership, development, and volunteerism 
Ongoing education on topics like 508 design standards, emerging technologies, and supporting employees with disabilities during COVID-19 remote work – topics discussed on a recent webinar hosted by the Global Disabilities BRG celebrating  Global Accessibility Awareness Day
A wide range of adaptive technologies and resources, with dedicated, ongoing efforts by leadership and management to connect employees to the resources they need
Such resources and support have helped Lead Technologist Eli Hinson, who has hearing loss and dyslexia, thrive since she joined Booz Allen in 2000.  In addition to becoming a leader in areas like SharePoint, she is also a co-chair of the firm's Global Disabilities BRG. 
"Having a disability doesn't mean you can't reach for the stars," said Hinson. 
"Booz Allen has been empowering people to change the world for more than 100 years," added Eric Wright, who has cerebral palsy and co-chairs the firm's Global Disabilities BRG.  "This award reflects Booz Allen's ongoing effort to position disabled employees as uniquely skilled and effective catalysts for change."  Wright also serves as a member of Booz Allen's 508 Leadership team that works to develop technology that is accessible to and usable by people with disabilities. 
Practices that make business sense
Incorporating accessibility into a corporate diversity and inclusion strategy is good for the bottom line.  According to Disability:IN, companies that do so have 28% higher revenue, two times higher net income, and 30% better performance on economic profit margin than their peers.  Companies in the Fortune 1000 and the nation's top 200 revenue grossing law firms use the DEI as a benchmark to measure a company's level of disability workplace inclusion against competitors. 
"The best way to attract, retain and grow talent with disabilities is to create an accessible, inclusive workplace," said Jill Houghton, president and chief executive officer of Disability:IN. 
Read more about the Disability Equality Index and diversity and inclusion at Booz Allen.