A Wildlife Biologist With Power
By Dana Kobilinsky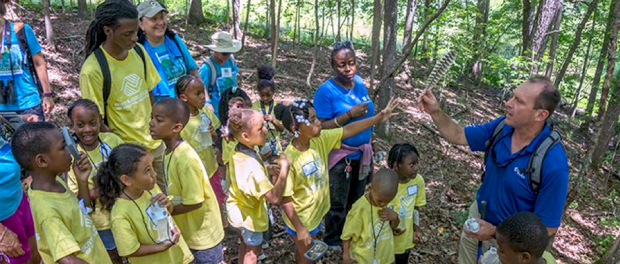 Fletcher shows children a turkey feather while taking them out on a walk in the woods as part of NCWF's Great Outdoor University. Photo courtesy of Scott Fletcher.
Originally published by The Wildlife Society
As a kid, Scott Fletcher was the go-to guy to identify whatever strange-looking critters had appeared in his neighbors' yards. When his father, a geology professor, took him and his brothers out for weekend fossil hunts in central Pennsylvania, Fletcher went searching for insects while the other two checked out the rocks. His father helped him assemble a sort of homemade natural history museum in the basement. He kept salamanders in a crate inside the house — until the smell overwhelmed his family and his dad shut-it down.
This love for nature led to Fletcher's current — but slightly unconventional — job as manager of natural resources for Duke Energy, one of the nation's largest electric utility companies. He is part of a team of eight scientists and technicians who work to maintain a balance between providing power and protecting wildlife and natural resources. 
As a wildlife biology major at the University of Maine, Fletcher, like his peers, hoped to work for a state or federal agency. During the summer after he graduated, he landed a job as a laborer/technician working for the lead waterfowl biologist at the Pennsylvania Game Commission. But after earning a master's degree in environmental management at Duke University, his career took an unexpected turn.
He ended up at a consulting company in Atlanta which worked on major power utility projects. The work opened his eyes to a field of wildlife biology he had never thought about before.
"I started realizing there's a career out there supporting utilities on wildlife and natural resource projects," said Fletcher, a TWS member and Certified Wildlife Biologist.
For about the next 25 years, Fletcher contracted with a number of energy companies, including Duke Energy. About six years ago, he joined its staff as a senior scientist.
"It was kind of a different route than most of my peers," he said.
In his position, Fletcher and his staff looks at the effects of the utility's operations and maintenance on wildlife throughout its 95,000 square miles of territory in Ohio, Indiana, Kentucky, North Carolina, South Carolina and Florida, as well as numerous wind and solar energy facilities across the country.
"We need to keep that balance between providing reliable power and the protection of those species and habitats," he said.
His work has led to partnerships with the North Carolina Wildlife Federation.
"We deal with a lot of tricky issues, anything from red wolf management in eastern North Carolina to our elk population in our mountains and how we're dealing with coexistence issues with both species and landowners," said Tim Gestwicki, the CEO of the North Carolina Wildlife Federation.
"I think everybody who comes into contact with Scott and his work knows right away the integrity with which he composes his work, even though he's dealing with somewhat complicated conservation issues," Gestwicki said.
Fletcher said he is particularly proud of his team's work on an avian protection plan to protect raptors from electrocutions or collisions at transmission and distribution lines. He is working on a new project using GIS to inform where transmission lines and rights of ways should go and how they are maintained in order to reduce impacts on natural resources such as rare species.
Fletcher also gets involved with introducing children to nature. As part of the North Carolina Wildlife Federation's Great Outdoors University, he leads inner city children on woodcock walks and other "wildlife detective" hikes to expose them to the outdoors and connect them to nature.
"When they come into it, they're a little shy and worried," he said. "After a couple hours, they really eat it up and enjoy being outside and seeing wildlife. Part of that, you always hope, is out of those 30 kids, some of them think about a career in wildlife."
For some, that could mean a career off the usual wildlife path.
"My advice to students getting out of school is to keep your options open," he said, "and understand utilities have a need for scientists."