Whole Planet Foundation | Dispatch From the Field – Crediting Field Officers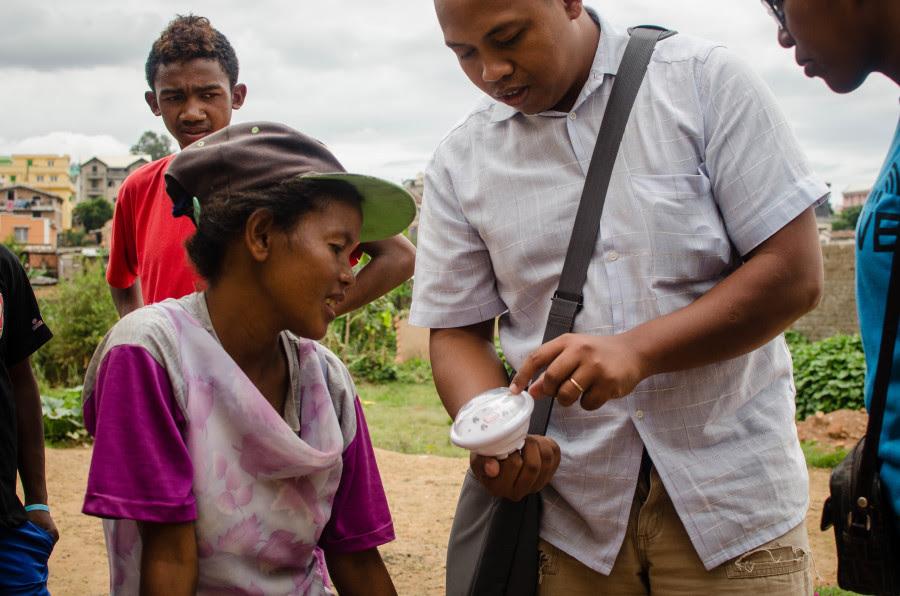 Ramboa from Whole Planet Foundation Madagascar partner Jiro-Ve shows a microcredit client how to operate a solar lamp in the field.
It is the season of gratitude and a time to celebrate the impact of 2017. Whole Planet Foundation wants to acknowledge the achievements of our microfinance partners' field officers, who are often the main point of contact between a microfinance organization and the entrepreneurs financing their businesses with microloans. In 2014 we piloted a new Field Officer Appreciation Award in the Africa & Middle East region of our work and in 2017, the foundation awarded its fourth year of awards to nominated field officers. In total, this region currently includes 28 partner institutions.
Dedication, creativity, inclusiveness, and leadership are some of the traits shared by many of the nominees for the 2017 Field Officer Appreciation Award in the Africa and Middle East Region. Field Officers are at the front lines of our partners' mission of financial inclusion, and they often work in very tough conditions. Read these success stories of each field officer and learn how they were able to deliver exceptional services to their clients.
Dedication  
Field officers often travel great distances on bad roads to reach clients in rural areas who may be tens of kilometers from each other. To keep costs low, they go by public transportation, on foot, or on a motorbike. On top of all that travel, they also have to complete desk work to keep their records up to date. One of this year's winners regularly arrives at the office by 5am, starts visiting clients at 6am, and sometimes stays at the office until9pm at night. Another field officer was attacked by robbers while working but has stayed with his job. One field officer goes out of his way to help clients with administrative tasks, like applying for national ID cards and birth certificates.
Creativity  
Microfinance clients often have little financial cushion and are especially vulnerable to shocks related to illness and death, unpredictable climate, and market volatility. Many of our partners nominated colleagues who use creativity and flexibility to help clients navigate financial difficulties, and start or expand their businesses. One field officer proactively connect his clients to outside opportunities, and helped a client win a youth microfinance prize which came with an award to support the growth of the business. Another field officer worked closely with a client who faced emotional and financial setbacks from two family deaths; the client has now grown her business and graduated from a group to individual loan.
Inclusiveness  
Many of the winners were especially committed to the financial inclusion of disenfranchised communities. Winners included field officers who dedicate extra effort in outreach to youth, women, people with disabilities, and people with HIV postitive status.
Leadership 
Our partners also highlighted field officers' contributions to organizational growth. Many of the winners helped open new branches and areas, execute innovations, represent their organizations in external partnerships, and help mentor and train colleagues.
A Note on the Process
We asked all of our Africa and Middle East microfinance partners to internally nominate their strongest field officer and submit her or his story for consideration in the competition. We were thrilled to receive submissions from 19 partners! The Whole Planet Foundation team took part in a vote to recognize the best among the best. This year's top award goes to Liliane Ravonimalala, working in rural communities in Northern Madagascar for Premiere Agence de Microfinance.  With her 10 years of experience with the microfinance organization, Liliane is currently serving 230 microcredit clients.
Congratulations to Liliane, and all of our partners' hard-working Field Officers alleviating poverty worldwide.