Whole Kids Foundation and Lettuce Grow Unite to Donate Hydroponic Growing Systems to Schools and Nonprofits Across the U.S.
Whole Kids Foundation and Lettuce Grow Unite to Donate Hydroponic Growing Systems to Schools and Nonprofits Across the U.S.
$125,000 Investment Demonstrates the Power of Partnerships to Improve Children's Nutrition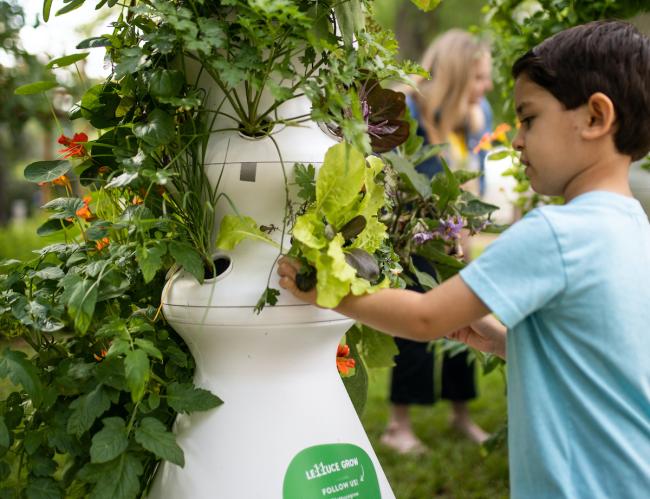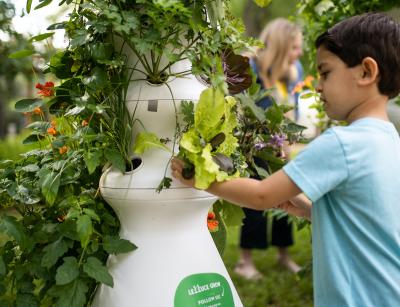 Thursday, May 21, 2020 - 9:00am
AUSTIN, Texas, May 21, 2020 /3BL Media/ — Whole Kids Foundation, a nonprofit focused on children's nutrition and wellness, announced today that Lettuce Grow is donating 125 hydroponic growing systems and supplies, valued at $1,000 each, to K-12 schools and school garden-support organizations across the U.S.
Last month, Whole Kids Foundation reported that $1.65M is being awarded for 550 edible educational gardens to schools and nonprofits across the US, serving more than 260,000 students. For those applicants that weren't funded for a garden grant this year, Lettuce Grow, a Foundation partner, is providing hydroponic growing systems (Farmstands) providing an additional 125 schools and nonprofits supporting children's programming, to grow fresh vegetables, fruits and herbs and use gardening as a learning tool.
Founded by Jacob Pechenik and Zooey Deschanel and based in Los Angeles and Austin, Texas,  Lettuce Grow is providing a way for everyone to grow fresh, clean and unprocessed food quickly and easily with its Farmstands.
"Whole Kids Foundation is built on a spirit of collaboration, and over the years, we have learned that partnerships can be a catalyst for meaningful and innovative change in children's nutrition," said Tristana Pirkl, Edible Education Leader for Whole Kids Foundation. "Lettuce Grow shares our passion for connecting kids with real food and empowering them to develop a healthier relationship with the food they eat. The Farmstands will be an important starting point in this journey for thousands of kids across the country."
Gardens are becoming an increasingly common educational tool, and for good reason: school gardens are shown to improve children's academic performance and behavior at school and improve their attitudes about and appreciation for the environment. Experiential learning, which is learning by doing, also helps kids understand concepts in a real work context.
Additionally, only two percent of children eat enough fresh fruits and vegetables, but kids who have a hand in growing food have increased nutrition knowledge and an increased willingness to try, and a preference for, vegetables and fruits, according to research studies.
Lettuce Grow's self-watering, self-fertilizing hydroponic Farmstands will allow recipients to chose from more than 200 varieties of vegetables, fruits and herbs to grow in the unique vertical gardens. The Farmstands are designed to save time and space, with only a few minutes required for maintenance and harvesting each week.
"Lettuce Grow is committed to improving access to fresh, healthy food for everyone, regardless of income," said Jacob Pechenik, Lettuce Grow co-founder. "Through our ongoing partnership with Whole Kids Foundation, we are working together to encourage community action, preserve the environment for future generations and create a better food system for all."
Since 2019, Lettuce Grow has worked with Whole Kids Foundation through its 1-for-10 Partnership to grant one Farmstand to K-12 schools and community organizations for every 10 sold.
###
About Whole Kids Foundation
Whole Kids Foundation supports schools and inspires families to improve children's nutrition and wellness. Founded by Whole Foods Market in 2011, the independent, nonprofit organization is based in Austin, Texas, and serves schools and organizations in the U.S., Canada and the U.K. For more information on the Foundation's school programs including school gardens, salad bars, beehives, and nutrition education for teachers, visit wholekidsfoundation.org. For ongoing news and updates, follow Whole Kids Foundation on Facebook, Instagram or Twitter.
About Lettuce Grow
Founded by Jacob Pechenik and Zooey Deschanel, Lettuce Grow is on a mission to make growing farm-fresh produce from home accessible to the modern lifestyle. Lettuce Grow's Farmstands provide a serious harvest, finally making "grow your own" a viable path forward to a better food future for all. The company seeks to effect real change in our food system by working to close the gap on food mileage, decrease transportation emissions, and reduce water usage and resource waste, all while helping re-establish a deeper, experiential connection with the food we eat. Lettuce Grow wants to bring healthy, sustainable harvests into every home.