White House Senior Director of Building Emissions to Keynote Living Future 2021 on Earth Day
Biden Administration Leader Joins 15th Annual Event Focused on Inclusion and Unity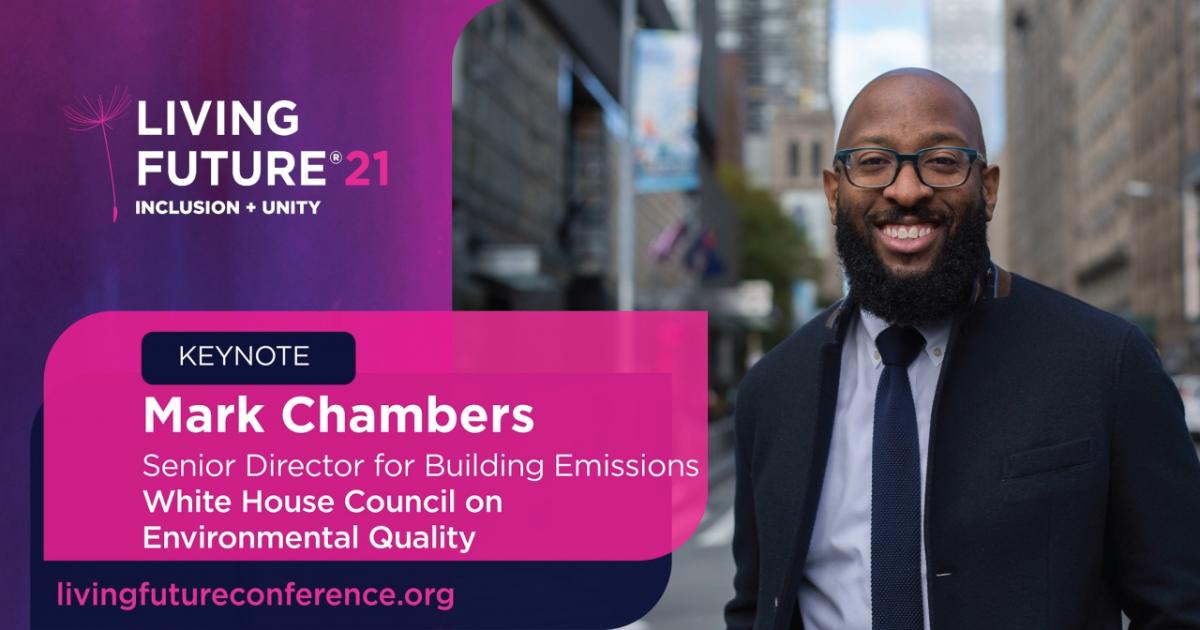 White House Climate Team's Mark Chambers To Keynote Living Future 2021
White House Senior Director of Building Emissions to Keynote Living Future 202…
SEATTLE, March 23, 2021 /3BL Media/ - Mark Chambers, Senior Director for Building Emissions at the White House Council on Environmental Quality will keynote Living Future 2021 on Earth Day, April 22. His address will focus on the Biden Administration's agenda for green building and opportunities for partnership with cities and private-sector leaders. 
Other confirmed plenary speakers include Joe Allen, Director of the Harvard Healthy Buildings Program, George Bandy, Jr., Head of Worldwide Circular Economy at Amazon, Avinash Rajagopal, Editor-in-Chief of Metropolis, and Kat Taylor, Co-Founder of Beneficial State Bank on opening plenary sessions. 
The virtual art exhibition Ritual For A Living Future will be presented as a 3D gallery experience curated by Monet Clark, featuring her new video work with Brenda Laurel, as well as works by Edgar Heap of Birds, Cannupa Hanska Luger, John DiLeva Halpern and Emily Harris of the Center for Cultural Activism International, and Penny Slinger. 
FOR MEDIA CREDENTIALS SEE BELOW
Gathering the world's greenest developers, architects, and product designers, Living Future 2021 is the 15th annual conference hosted by the International Living Future Institute. At this crucial moment in history, the event will examine climate, health, and equity and the tools needed to address structural inequities in the built environment and fight climate change.
Held virtually April 20-23, 2021, Living Future 2021 is for anyone working to make buildings, products, and companies environmentally and socially just. 
Participants from around the world attend the event. Already setting registration records, Living Future 2021 (LF21) will build on the unprecedented success of last year's virtual conference. 
The theme for this year's event is "Inclusion + Unity," reflecting the historic social changes underway around the world. Highlights of LF21 include the following:
Tuesday, April 20, the Living Product Expo will highlight the wide array of toxics-free products available for homes and businesses. Tickets for the Expo are only $20, so bring your whole team. 
Tuesday, April 20 also includes virtual tours of the world's greenest buildings, including the PAE building (Portland, OR), the Santa Monica (CA) City Services Building, and Google's 6 Pancras Square Building in London, England.
Wednesday, April 21 will focus on building resilience and equity and include a Spanish-language track of sessions that focus on projects and themes from Latin America 
Thursday, April 22 conference sessions will focus on decarbonizing buildings and products, equity, and unity to promote a just and inclusive transition to a climate-friendly future.
Friday April 23 will include special announcements that celebrate the progress in the fields of green building and sustainable products. 
Registration Now Open
Register today to receive the best pricing.
Media Credentials Available
Journalists can receive free media credentials. Please email media@living-future.org for more information. 
Visit the Event Website to Learn More. 
Confirmed Presenters Include:
Joe Allen, Harvard Healthy Buildings Program - Kat Taylor, Beneficial State Bank - George Bandy, Jr., Amazon - Avinash Rajagopal, Metropolis - Tania Kadakia, DL3 Realty - Kathy Wardle, Perkins + Will - Victor Montero-Dien, Regenerative Built Environment Institute - Heidi de Cienfuegos, B100 arquitectos - Leslie Maynard, YGH Architecture - Laura Zapata, Bonneville Environmental Foundation - Tom Bruton, Green Science Policy Institute - Jeanie Lai, Bora Architects - Juan Casillas Pintor, Universidad Iberoamericana, Ciudad de México - Juan Rovalo, Biohabitats, Inc. - Jordan Sullivan, Sustainable Living Innovations - José María Wilford Nava Townsend - Armando Turrent, Development and Ecology - Maryangel Garcia Ramos Guadiana, Tecnológico de Monterrey + Mexican Women With Disabilities Founder - Ericka Colvin, Yost Grube Hall Architecture - Alexandra Ramsden, Rushing - Alan Booker, Institute of Regenerative Design - Amy Hubbard, Capire Consulting Group - Ruchi Shah, Tenderloin Neighborhood Development Corporation - Rebecca Ocken, Portland Community College - Arlene Blum, Green Science Policy Institute - Dana Clare Redden, Solar Concierge - Joshua Gassman, Lord Aeck Sargent A Katerra Company - Carola Báez Pedrjao Aguilar, Cold Press News - Elizabeth Calabrese, Calabrese Architects, Inc - Jesica Amescua Carrera, UNAM - Myer Harrell, Rushing - Emi LaFountain, Turner Construction - Kelly Worden, US Green Building Council - Mark Perepelitza, SERA Architects - Pedro Gómez Gallardo, Desarrollo y Ecología SA de CV - Rebecca Stamm, Healthy Building Network - Joella Hogan, NNDFN - Elizabeth Torres Rodriguez, SEUS | Sostenibilidad Universal - Marcus Briggs-Cloud, Maskoke Tribe - James Connelly, My Green Lab - Dave Bennink, Building Deconstruction Institute / Re-Use Consulting - Susan King, HED (Harley Ellis Devereaux) - Lola Ben-Alon, Carnegie Mellon University +  Columbia University - Luis Huerta, Sustainable Design Consulting - Vedette Gavin, Verge Impact Partners - Isaac Barrow, Portland General Electric - Aaron Keeler, Greystar - Nathan Miller, Rushing - Tre Borden, Tre Borden, Co. - Chaun MacQueen, Bonneville Environmental Foundation - Martin Gutierrez, Development and Ecology - Christina Congdon, Environmental Works Community Design Center - Pallavi Mantha, Arup - Elizabeth Carmichael, ECOhous - Jose Almiñana, Andropogon Associates - Pilar Álvarez, Universidad Iberoamericana, Ciudad de México - Billy Krimmel, Miridae Landscape - Amy Donohue, Bora Architects - Jenelle Shapiro, Webcor Builders - Mark Chen, Skanska - Shiloh Butterworth, PAE Engineers - Jesce Walz, Perkins + Will - Dr. Daniela Muñoz, CIFRO, the Center of Research and Philosophy & ioio.mx - Jen Jackson, San Francisco Department of the Environment - Mallory Taub, Gensler - Dirk Kestner, Walter P Moore - Roberto Valle Kinloch, Healthy Building Network - Seth Rojello Fernandez, Green Science Policy Institute - Christie Gamble, CarbonCure Technologies - Bryan Lee, Colloqate - Jonathan Orpin, Pioneer Millworks - Erika Winters-Downey, McCownGordon Construction - Marshall Andrews, DPR Construction - Vivian Loftness, Carnegie Mellon University, Center for Building Performance and Diagnostics - Karina Hershberg, PAE - Alissa Kingsley, Lord Aeck Sargent - Mike Harrington, The New School / Tishman Environment and Design Center - Alejandra Arce Gomez, GCI General Contractors - Joanne Carter-Wells, California State University, Fullerton - Manuela Londono, Perkins + Will - José María Nava Townsend, Universidad Iberoamericana, Ciudad de México - Marc Brune, PAE - Suzie Wiest, Village Nurseries - Esteban Martinez Lozada, Green Loop - María Fernanda Aguirre, Chile Green building Council - Lydia Gaby, HR&A Advisors, Inc. - Julie de Jesus, David Baker Architects - Mauricio López, Origen Ingeniería Sismorresistente - Erin English, Biohabitats - Andrew Ellsworth, Doors Unhinged, LLC - Jessie Buckmaster, Hathaway Dinwiddie Construction Company - Alicia Silva Villanueva, Revitaliza Consultores - Heather Henriksen, Harvard Office of Sustainability - Jeremy Knoll, BNIM - Alanna Quock, Regenerative Design - Tiffany Tang, Capire Consulting Group - Yarden Harari, CallisonRTKL Inc.
###