Whirlpool Corporation Using Wind Energy to Power Plants, Education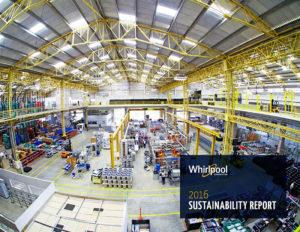 In its ongoing mission to be more sustainable, Whirlpool Corporation is constantly searching for ways to lower its carbon footprint and increase its output of clean, renewable energy.
As part of those efforts, Whirlpool Corporation's American wind projects are growing. In late 2016, the company completed construction of a wind farm near its Findlay, OH plant, and broke ground at two additional plants in Ottawa, OH and Marion, OH.
Collectively, those wind farms put Whirlpool Corporation on a path to potentially be one of the largest users of on-site wind energy of any Fortune 500 company in the United States.
In the first part of 2016, the Findlay, OH wind farm generated approximately 10 percent of the electricity needed for plant operations. Whirlpool Corporation expects all the three wind farms to generate enough clean energy to power more than 2,400 average American homes per year.
That wind energy is also helping power students' education. For the next 20 years, Whirlpool Corporation will award one $5,000 Megawatt STEM Scholarship per wind turbine to a graduating senior from high schools in the Findlay, Marion and Ottaway areas. This translates to $100,000 in community education scholarships in Ottawa, $200,000 in Findlay and $300,000 in Marion over the next two decades.
Whirlpool Corporation is committed to improving its sustainability practices and has made progress in regions around the world. To read more about our global initiatives, click here to access the complete 2016 Sustainability Report. The annual Sustainability Report is based on the Global Reporting Initiative (GRI) model, an international independent standards organization that helps businesses, governments and other organizations understand and communicate their impacts on issues such as climate change, human rights and corruption.