Wherever We Are, Quest Is Part of the Community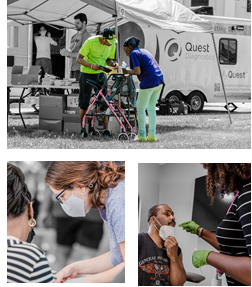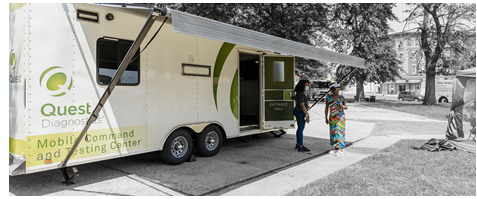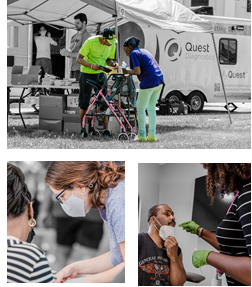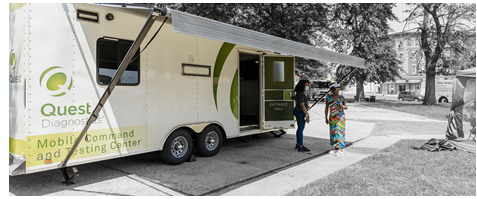 Originally published in Quest Diagnostics 2021 Corporate Responsibility Report
The corporate giving program at Quest captures the passion and commitment of our employees, leadership, and business partners to make lasting, meaningful contributions in the communities where we live and operate.
We believe that a strategic and targeted approach to giving enables us to focus our resources to support identified needs in the most effective and impactful way.
Donated or discounted testing
Community engagement We are committed to providing clinical laboratory services regardless of patients' ability to pay. Through our various patient assistance programs and Quest for Health Equity (Q4HE), we tailor solutions based on individual circumstances and may adjust some or all laboratory charges.
In 2021, we provided ~800K donated or discounted test requisitions, at a cost of approximately $13M
Matching gifts and volunteering
The Quest Diagnostics matching gifts and volunteering programs are designed to support organizations with a primary focus on healthcare, health disparities, and social determinants of health; accredited educational institutions; and organizations that promote diversity, equity, and inclusion. Our program matches $1 for every $1 contributed by Quest employees to eligible organizations, up to $2,500 per employee per year.
Contributed $475K in matching funds to 600+ nonprofits Volunteered more than 27K hours
Employee Relief Fund
At Quest Diagnostics, we take pride in our ability to support our employees during unforeseen circumstances. The Quest Diagnostics Employee Relief Fund serves as an opportunity for employees to support one another during f inancial hardships that result from federally declared emergencies, such as the COVID-19 pandemic and other natural disasters. Quest matches $1 for every $1 contributed to the Fund by Quest employees.
More than 300 grants were approved in 2021, representing $268K in support for employees
Community engagement
Through local, national, and international partnerships, Quest offers employees several ways to participate in community engagement throughout the year. Some of the programs through which we give back include:
Season of Giving campaign: In 2020, Quest introduced the Season of Giving campaign, which offered employees a double-match opportunity for donations made as part of the Giving Tuesday global movement. In 2021, the campaign expanded to feature nearly 30 volunteer opportunities through various nonprofit partnerships across each region. This campaign offered employees flexibility to give back in a way that is meaningful to them, from food, clothing, and toy drives to cash donations to nonprofits aligned with Quest's strategic giving.
Supporting COVID-19 relief efforts in India: To support colleagues, their families, and the broader community in India during the COVID-19 surge, Quest partnered with Vibha, a US-based nonprofit organization with the mission to ensure that underprivileged children attain their right to health, education, and opportunity. Vibha established Ray of Light, an initiative focused on COVID-19 relief efforts in India to set up modular bed hospitals, procure oxygen concentrators, personal protective equipment (PPE), and establish vaccine clinics. Through Quest employee donations and corporate matching funds, more than $30,000 was donated to these relief efforts.