WETA: Producing Content of True Consequence and Bringing Important Ideas to Life on Behalf of the Public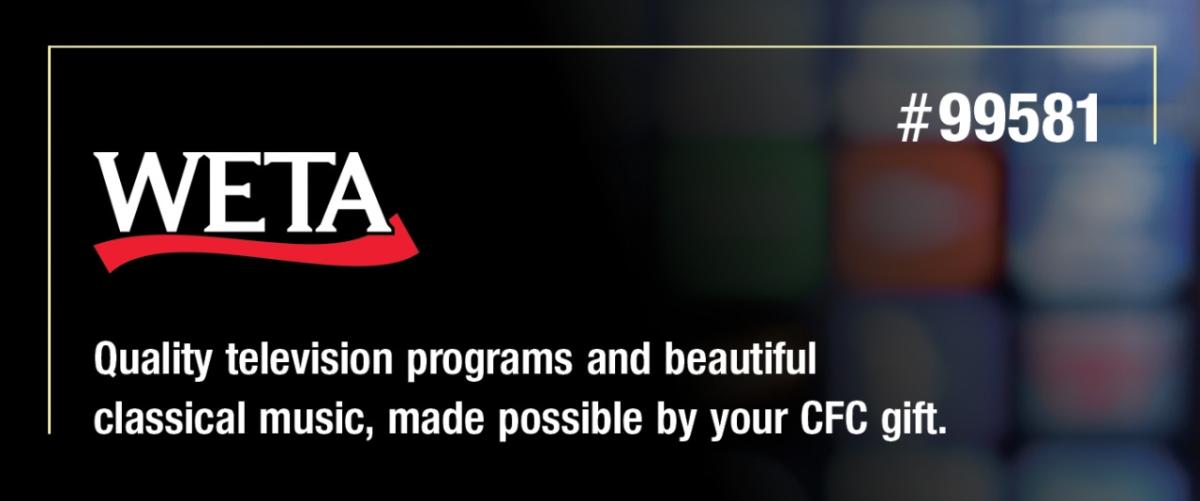 For more than 60 years, WETA has served Virginia, Maryland and the District of Columbia with high-quality, educational cultural, news and public affairs programs and services. WETA content educates and inspires on five television channels – WETA PBS, WETA UK, WETA Metro, WETA World and WETA PBS Kids; on weta.org and the PBS Video App; and on WETA Classical 90.9 FM and classicalweta.org. Combined Federal Campaign and workplace giving contributions from individual community members have provided vital support to help make WETA's public service possible. 
As an independent, not-for-profit public broadcaster and producer, WETA's mission is to produce and distribute content of intellectual integrity and cultural merit using a broad range of media to reach audiences both in our community and nationwide. 
 CFC and workplace giving contributions support the broadcast of WETA's five TV channels where viewers enjoy popular programs such as PBS NewsHour, PBS News Weekend and Washington Week, Finding Your Roots, Masterpiece, Daniel Tiger's Neighborhood, Frontline, Antiques Roadshow and Nature, and performance specials from venues such as the U.S. Capitol and the John F. Kennedy Center for the Performing Arts. WETA Classical is the exclusive home of classical music in Greater Washington, both on air at 90.9 FM and via classicalweta.org. Contributions help fund the inspiring offerings, including radio productions produced by WETA with leading area cultural institutions, opera favorites every Saturday afternoon and a dedicated podcast that explores classical music in-depth. 
 In addition to broadcasts and productions, WETA has developed valuable national education services including health content from Well Beings, a multiplatform campaign that includes original broadcast and digital content, engagement campaigns and impactful local events. Projects for parents and teachers include Brainline.org, LDOnline.org, ReadingRockets.org, ColorinColorado.org and AdLit.org. 
 In the local community, WETA's services include Ready To Learn workshops that show families, child-care providers and teachers how to leverage public television's kids shows to help young viewers learn to read. Where Literacy Begins workshops, designed for child-care providers and parents of children ages 0-3, helped families connect with local libraries for content and resources. 
 Workplace contributions also support WETA's popular local productions WETA Arts, house-hunting and neighborhood history series If You Lived Here and the new restaurant series Signature Dish.  
 A top producer of public affairs, history, arts and cultural programming, WETA creates some of the finest, most-watched programming in television, including the award-winning PBS NewsHour, PBS News Weekend, Washington Week and much more. WETA works with a wide range of independent filmmakers to produce and present films including Ken Burns's  Muhammad Ali and The U.S. and the Holocaust, Henry Louis Gates Jr.'s Making Black America: Through the Grapevine, the Peabody Award-winning Asian Americans, and many more. 
 As a non-profit, WETA relies on members of the community to support the company's mission of service. It is the collective support of members, donors, listeners, viewers, parents, teachers and many others that sustains WETA's important work. 
 Your gift to WETA is a gift to the people of your community. 
 Through your support, you are helping others in the Washington, D.C. area and beyond, empowering audiences to share the joy of learning, stay informed as citizens, benefit from a deeper understanding of the nation's history and experience the nourishment of the arts and sublime music. Your CFC contributions will help WETA continue to provide a unique service to the national capital region, creating content of true consequence and bringing important ideas to life on behalf of the public.