Walmart and the Walmart Foundation Announce at Least $1 Million Toward Hurricane Irma Relief and Recovery
Donations and needed supplies to assist organizations leading Irma's relief efforts.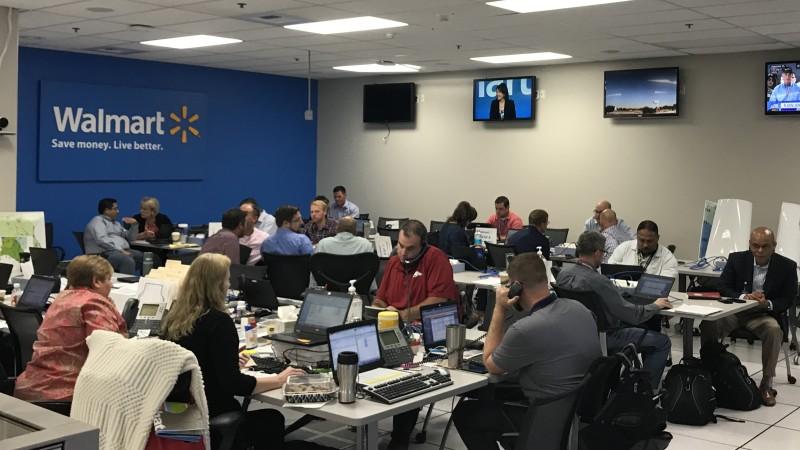 Walmart Emergency Operations Center
BENTONVILLE, Ark., September 8, 2017 /3BL Media/ - In anticipation of Hurricane Irma, Walmart and the Walmart Foundation have made a commitment to provide support for relief efforts through cash and product donations of at least $1 million to organizations helping in response.
"We are deeply concerned about the devastating impact Irma is expected to have on the families and communities we serve," said Kathleen McLaughlin, president of the Walmart Foundation and chief sustainability officer for Wal-Mart Stores, Inc. "We are committed to recovery efforts for our customers, associates and neighbors and will be there to help them through this difficult time."
Walmart is taking action by:
Centralizing preparedness efforts through the Walmart Emergency Operations Center (EOC) which operates 24 hours a day, tracking storm impacts and supporting our associates' needs and well-being.
 
Taking care of our associates by communicating with our store and club location management teams, reminding our associates of emergency procedures and what to do before, during and after the storm.
 
Activating emergency support teams dedicated to helping our stores and club locations during critical events such as this one, and providing subject matter experts in logistics and emergency management to assist local emergency operations centers.
 
Mobilizing truckloads of water into the potentially affected area to help meet the growing demand, understanding that water is a need across the region.
 
Supporting operators in the field and our replenishment teams to help ensure that shelves remain appropriately stocked.
 
Ensuring that our stores and club locations remain open for our customers as long as safe conditions prevail. If mandatory evacuations are ordered, we will close our facilities with enough time for our associates to secure shelter for them and their families.
Walmart and Sam's Club also continue to support Hurricane Harvey relief and recovery and is working with organizations like the American Red Cross, Salvation Army and Convoy of Hope to coordinate work with elected officials and governmental entities. The company will continue to monitor Hurricane Irma and all other active storms in the coming days.
For the latest on response and recovery efforts, visit: corporate.walmart.com/Irma.
Walmart has a long history of providing aid in times of disasters, helping our communities prepare and recover by donating emergency supplies, such as food and water, home and personal products. Since 2005, Walmart and the Walmart Foundation have donated more than $60 million in cash and in-kind donations in response to disaster events.
About Walmart
Wal-Mart Stores, Inc. (NYSE: WMT) helps people around the world save money and live better - anytime and anywhere - in retail stores, online, and through their mobile devices. Each week, over 260 million customers and members visit our more than 11,600 stores under 59 banners in 28 countries and e-commerce websites in 11 countries. With fiscal year 2017 revenue of $485.9 billion, Walmart employs approximately 2.3 million associates worldwide. Walmart continues to be a leader in sustainability, corporate philanthropy and employment opportunity. Additional information about Walmart can be found by visiting http://corporate.walmart.com, on Facebook at http://facebook.com/walmart and on Twitter at http://twitter.com/walmart.
About Philanthropy at Walmart 
By using our strengths to help others, Walmart and the Walmart Foundation create opportunities for people to live better every day. Walmart has stores in 28 countries, employing more than 2.3 million associates and doing business with thousands of suppliers who, in turn, employ millions of people. Our philanthropy helps people live better by supporting upward job mobility and economic development for the retail workforce; addressing hunger and making healthier, more sustainably-grown food a reality; and building strong communities where Walmart operates and inspiring our associates to give back. Whether it is helping to lead the fight against hunger in the United States with $2 billion in cash and in-kind donations or supporting Women's Economic Empowerment through a series of grants totaling $10 million to the Women in Factories training program in Bangladesh, China, India and Central America, Walmart and the Walmart Foundation are not only working to tackle key social issues, we are also collaborating with others to inspire solutions for long-lasting systemic change. To learn more about Walmart's giving, visit http://www.foundation.walmart.com.