Volunteers Distribute Supplies to Students Getting Ready for a New School Year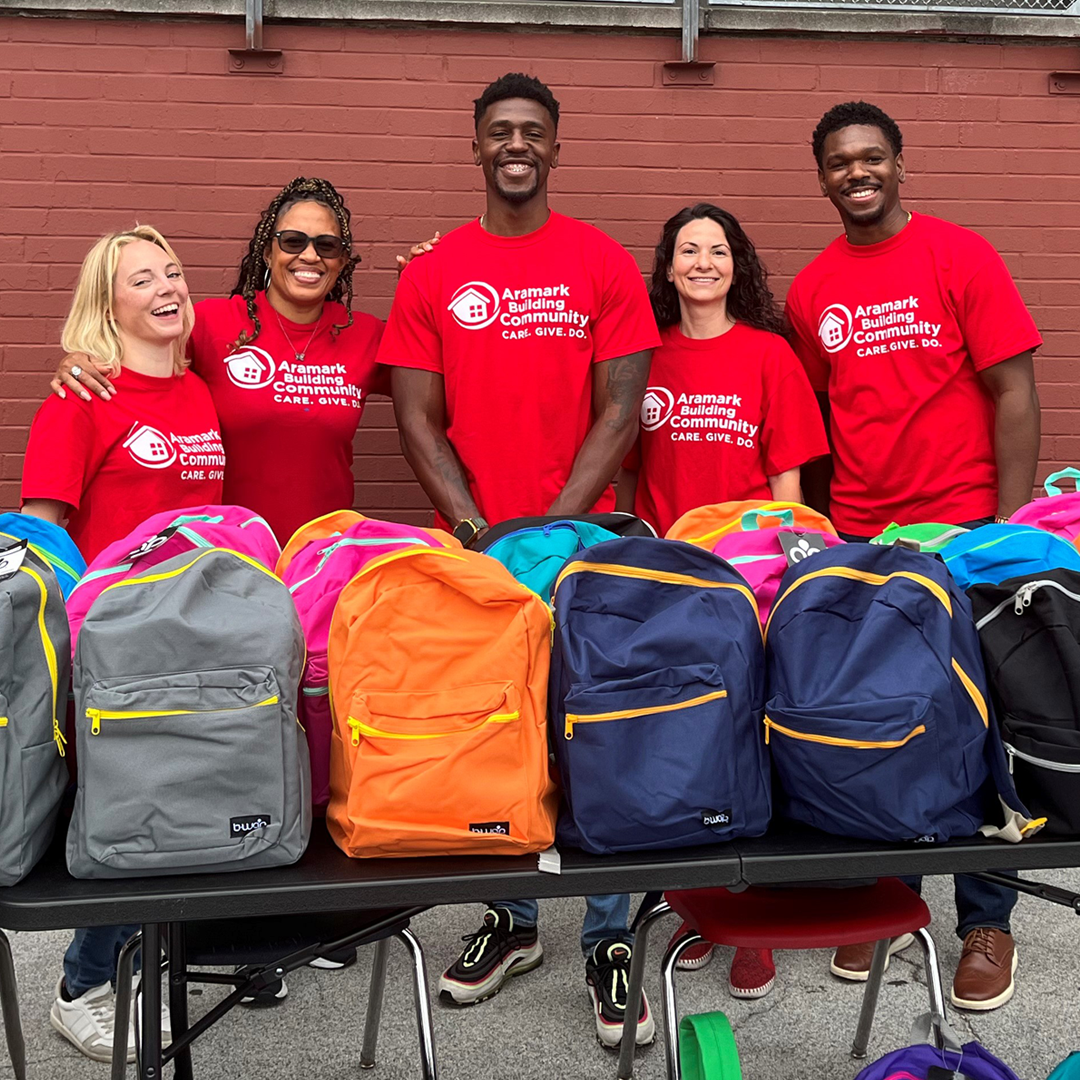 Thousands of students in 20 communities received a little help getting ready to go back to school this year.
For the third year in a row, Aramark volunteers, including members of several of the company's employee resource groups (ERGs), partnered with nonprofit community organizations to provide backpacks and school supplies to families across the U.S. and in Santiago, Chile, throughout July and August 2023. Several locations held cooking demonstrations and provided nutritious meals and healthy snacks, as well.
"Many students and families just need a little extra help getting excited and ready for going back to school," said Joel Hernandez, Resident District Manager, Aramark Collegiate Hospitality. Hernandez, co-chair of the company's Impacto ERG, helped initiate the first back-to-school project in 2021. "These community service projects are a meaningful way to engage our employee volunteers while providing necessary school supplies."
To help fill backpacks and supply bags for distribution, the company hosted a virtual back-to-school drive at which Aramark employees everywhere could purchase and donate school supplies from an Amazon list for the drives.
"We are committed to enabling a healthy and equitable society by empowering workforce success, inspiring healthy lives, and building vibrant communities," said Jami Leveen, Vice President of Community Partnership, Aramark. "These back-to-school events are a great demonstration of the Aramark Building Community work we do year-round and a further commitment to creating positive impact in our communities."
In all, more than 700 volunteers:
Distributed more than 2,000 backpacks;
Donated 25,354 school supplies (weighing more than 12,000 pounds!);
Served 2,600 meals;
Reached 20 communities, partnering with Aramark client locations and community partner organizations, including Boys and Girls Clubs of America (BGCA) locations (photo at top: volunteers at BGCA Middle Tennessee, Nashville); and
Helped support thousands of school students and their families.
Aramark Back-to-School Event Highlights 
On August 2, Aramark volunteers partnered with Purdue University and BGCA Lyn Treece to provide 125 backpacks and supplies to local school students.
Volunteers met with students and even played dodgeball after the backpacks were distributed. The event was covered by the local TV news (photo).
In Santiago, Chile, Aramark volunteers assembled 80 backpacks and held a cooking demonstration for seventh grade students August 3 in partnership with America Solidaria, an international community organization focused on children and adolescents.
Aramark volunteers worked with the Chicago Urban League August 5 to assemble 250 healthy meal tote bags and offered a "build-your-own" healthy trail mix demonstration along with healthy snack recipes and ideas to students and families. The volunteers even added personal notes of encouragement to give the students an extra boost.
On August 30, Aramark worked with longtime Philadelphia community partner, Congreso de Latinos Unidos, providing 50 backpacks and more than 1,000 school supplies to local students. Volunteers also prepared and offered healthy snacks.