VMA Intern Correspondent Joelle Park on Social Issues, Red Carpet Chaos and Her Love for Lizzo
VMA Intern Correspondent Joelle Park on Social Issues, Red Carpet Chaos and Her Love for Lizzo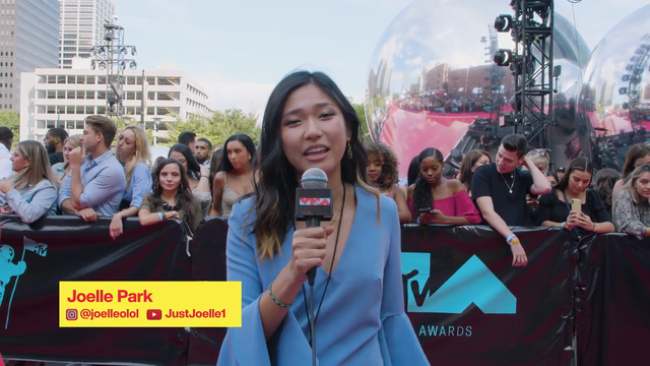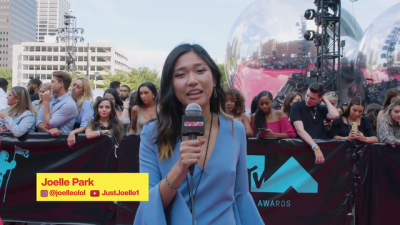 Thursday, September 26, 2019 - 10:45am
A junior at Dartmouth studying economics, film and liberal arts, Joelle Park spent her summer at Nickelodeon managing YouTube scheduling calendars, observing the creative process, and brainstorming video ideas. When Viacom's Corporate Social Responsibility team put out calls for video submissions to help them choose this year's MTV VMA correspondent, Park saw an opportunity to chase an unfulfilled aspiration.
"As I'm approaching graduation and having studied film and media for a long time, I had a pretty recent realization that I am super interested in pursuing on-screen work as a full-time position, but I've honestly never felt qualified," Park told me in a recent discussion about her experience interviewing celebrities about social issues on the red carpet. "It's not something that people from my school typically do, and as an Asian-American woman, it's not really something that you're ever raised believing to be a career possibility. But I think at Viacom, I saw so many people who were pursuing their passions because they genuinely loved the work, and it inspired me to do the same."
Here is the rest of our conversation, edited for length and clarity.
Izzy Falkovich: Can you talk a little bit about the atmosphere of the carpet?
Joelle Park: It was just buzzing with energy. It was so interesting to see how there were some people who looked like they had done this a million times, being very calm and cool and collected. But it was really fun to be stationed next to a lot of the other Viacom press, like VH1 and BET. It was an awesome collaborative energy, and everyone was so supportive of me being a young person at the event. At the same time, it was also still a professional environment, where people were trying to get content and share a story, share a message.
IF: What was the social issue that you were most excited to hear about?
JP: I think one that constantly came up that I'm really passionate about is, of course, diversity and representation. I think it's important to acknowledge the historical oppression behind art forms like rap, hip-hop and R&B, so I love that a lot of artists brought up the issues of racism, systematic oppression, and mass incarceration. I think it's really important to acknowledge the ways that we can learn from each other's cultures, but that we also need to take on the responsibility that comes with that; fighting for each other and fighting for people who may not share the same background or issues.
IF: Did any celebs' answers stand out to you? 
JP: I really enjoy talking to Dr. Drew Pinsky. He gave a really sweet response- it was like a more seasoned veteran or someone who was thinking more with the next generation in mind, and I think it's wonderful to see people who want to see changes made in the world for a generation beyond their own. It was also really cool to talk to Justina Valentine from Wild N Out. She gave a really funny response, and it was fun to hear people have their own spin on the questions, since they were more serious.
IF: What about the experience surprised you the most?
JP: From a production standpoint, it was really interesting to see, since I've been a consumer so long. When you put the end video together, it seems very nicely curated and planned out, but it's all off the cuff- and because of that, the environment had this really cool sense of authenticity and spontaneity, which I really enjoyed. Stars didn't know that I was going to be asking them about social issues, and because of that, they could formulate a really genuine response of what first came to mind.
IF: Okay, let's talk about the show itself. Do you have a favorite piece of VMA history?
JP: The first thing that comes to mind is, of course, the outfits. Was it Britney [Spears] with the cobra or the snake? I also love seeing people's dreams come true- especially young artists who are up-and-coming. It was really exciting to see stars like Lizzo or Billie Eilish, who won the award for Best New Artist. I was really excited to see those moments of young new artists getting their first chance to share the stage with some really big names- and I think that definitely happened. 
IF: Do you have a favorite performance from this year's show?
JP: Oh, I loved Lizzo and Normani. It was so fun to see them have this big moment on stage. And, of course, Missy Elliot. I felt so privileged to be there during her big tribute performance. It felt like a moment in history that I was able to witness - her just going and playing a bunch of her old songs, and having Alyson Stoner come out, who I've been a huge fan of, and who's been a Missy Elliot icon since she was little.
IF: How do you think your experience as a YouTube Strategy & Development Intern with Nickelodeon prepared you for this opportunity?
JP:  I think just being able to talk to people in a professional environment really helped prepare me for the red carpet. In addition to that, fueling my passion for media was a very broad impact of my internship. I had a lot of great mentors who had worked on-screen doing hosting and acting, as well as who are doing more creative or administrative roles who were able to give me a lot of tips.
IF: How do you think that social impact aspect of the company in the whole affected your internship experience?
JP: I think it really affects the culture, as the way that people approach their work and their life is affected by the values of the company that they're a part of. It made it so much more of a positive experience knowing that I was working at a company where there's a lot of mindfulness toward not only the type of content that we put out, but also toward events that happen within the office. For example, having Viacommunity Day for interns - the fact that we could take time to give back to our communities was really important to me, especially as a media company. I think media companies have a particular responsibility to be really focused on their communities, because ultimately, we are creating content for others that's going to impact culture and is going to impact the way that people see themselves and see others. I love that Viacom really emphasized that throughout the internship and beyond.