United Way 2022 Campaigns: 'A Safety Net That Catches the Most Vulnerable'
Enbridge campaigns raise US$3.6M (C$4.7M) for chapters across North America, including a 30th year of US$1M+ in Houston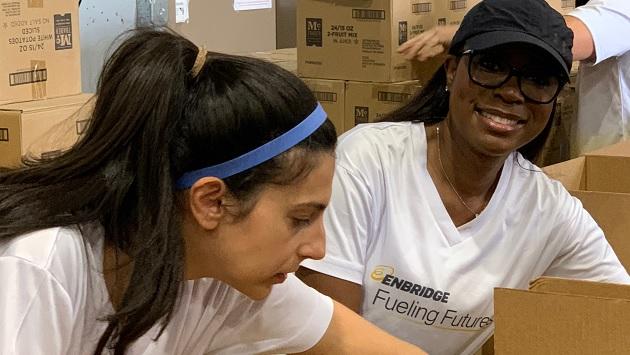 Enbridge employees Mayra, left, and Sonya help to package food hampers at Houston's Target Hunger warehouse.
There's feeling like a million bucks.
And then there's raising a million bucks . . . which, let's be honest, feels even better.
In 2022, for the 30th year, Enbridge's Houston team members capped a million-dollar campaign for the United Way of Greater Houston—as our workforce across North America raised US$3.6 million (C$4.7 million) for United Way chapters across the continent.
In 2022, our Houston employee campaign's spotlight agency was Target Hunger, one of Houston's largest non-profit organizations that provides direct food assistance for children, families, and seniors in northeast and east Houston neighborhoods who face the risk of going hungry every day. Enbridge volunteer activities included two days of sorting and packaging food hampers at the Target Hunger warehouse for distribution to those in need.
In the end, Enbridge's Houston employee campaign raised $1,061,488 for the United Way of Greater Houston. Only four companies in the Space City have achieved such a consistent giving legacy; the others are CenterPoint Energy, ExxonMobil and ConocoPhillips.
Overall, more than 2,000 Enbridge team members used our Fueling Futures program in 2022 to support United Way chapters in 133 communities across North America. That US$3.6-million (C$4.7-million) total includes employee and contractor donations, retiree giving, special events, regional donations and Enbridge's corporate match.
Highlights from 2022 include:
"Every year Enbridge team members generously step up to help our neighbors achieve financial stability and create a safety net that catches the most vulnerable," says Lorraine Little, Enbridge's Director of Corporate Citizenship and Strategic Partnerships. "This year is no exception, and our campaign results are phenomenal."