UK Energy Sector Transformation Marks Historic Milestones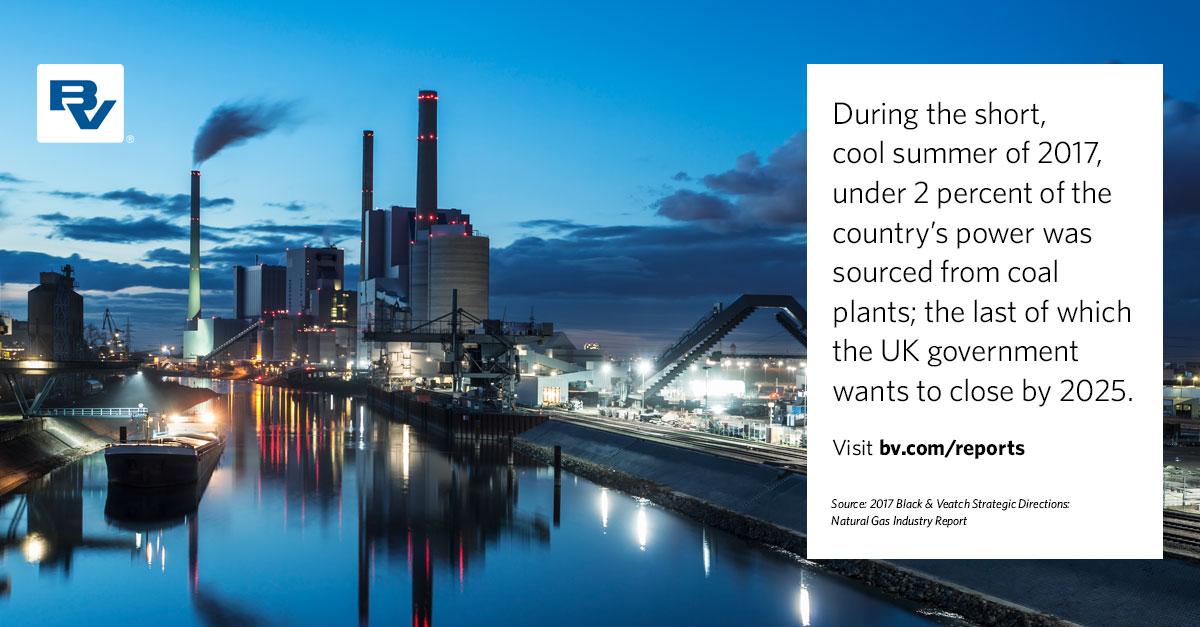 UK Energy Sector Transformation Marks Historic Milestones
In the chronicles of Great Britain's energy industry, 2017 will go down as a significant year. At a time already characterized by change and uncertainty, two events stand out. One signals a break with the past; the other suggests the shape of things to come.
In April, for the first time ever, Britain's National Grid ran for 24 hours without any coal-generated power. In September, for the first time ever, the cost of wind power in Britain fell below that of nuclear power.
Download the 2017 Natural Gas Industry Report
A "coal-free" day may now seem unsurprising — inevitable even — yet it is easy to overlook its significance until one considers that until relatively recently, coal dominated Britain's energy mix. In 1974, burning coal generated 80 percent of Britain's energy. In 2012, that not-too-distant Olympic year, coal still accounted for 40 percent of the country's energy.
The tail-off in recent years has been more dramatic. In 2016, 9 percent of Britain's energy came from coal. Today the fuel is cast in a supporting role, called upon mostly at times when demand is high and the weather unfavorable for wind and solar. During the short, cool summer of 2017, under 2 percent of the country's power was sourced from coal plants; the last of which the UK government wants to close by 2025.
Renewable Energy Proving More Economical
In a government auction, two wind arrays — Hornsea Project 2 off the Yorkshire coast and Scotland's Moray offshore wind farm — secured a guaranteed price for their electricity of £57.50 (US$77.04) per megawatt-hour (MWh). The cost was nearly half the price the government has guaranteed EDF Energy — £92.50 (US$123.93) MWh — for power generated by two new nuclear reactors planned for Hinkley Point C in Somerset.
The wind deals were part of the UK government's second Contracts-for-Difference (CfD) auction, in which developers compete for projects by bidding the price they would be willing to accept for generating electricity. The auction, for "less-established technologies," awarded power purchase contracts worth £172 million (US$230.4 million) to renewable energy projects; all of the successful bids were below the MWh price secured by EDF for Hinkley.
The auction led the Economist Intelligence Unit to report that "the trajectory of cheaper renewable technologies is irreversible." Although last year was the first during which Britain got more energy from wind than coal — 11.5 percent compared to 9.2 percent — a huge capacity gap between coal and renewables remains.
Natural Gas to Serve as Bridge Between Coal and Renewables
With no new nuclear plants due online in the short term, gas offers the logical bridge — for reliable, flexible generation — between coal and renewables.
In the 2016 capacity auction, more than 10 GW of generating capacity — including 9.7 GW from new gas plants — exited the T-4 auction early, signifying gas's key role in the energy mix. Of the 3.3 GW of new capacity contracted in the T-4 auction, more than half came from a new gas power plant. This comprises just one combined-cycle gas turbine plant, a retrofit to an existing generating station, Centrica's 333 MW project in King's Lynn, Norfolk, and 1.5 GW of gas engine and gas turbine projects.
The vast majority of new gas projects to secure capacity contracts were smaller, distributed generation units, such as Centrica's 50 MW gasreciprocating plants at Brigg in North Lincolnshire and Peterborough in Cambridgeshire, together with numerous smaller gas engine projects.
Look to Germany if you want a further sign that Britain's need for gas power stations remains strong.
Christopher Delbrück, Chief Financial Officer of the German utility Uniper, said, "It may be worth it to disassemble some of the [German gas] plants and to rebuild them in Great Britain." He added, "In a couple of years I think taking stakes in new gas power stations in Great Britain is a possibility."
At a time characterized by change, uncertainty and Brexit, this is a strong signal that rumors of gas's demise are greatly being exaggerated. Flexible, highly efficient new combined-cycle gas turbine (CCGT) plants can be built much more cheaply and quickly than nuclear power plants. What we expect to see is not a dash for gas, but a steady route march, and we are under starter's orders.